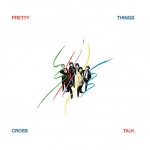 Auteurs : Phil May
Album : Cross Talk (1980)
Durée : 2 min 46 s
Éditeur : East Fourth Publishing
Paroles
I got myself some good news
I bought myself some blue suede shoes
I took down my suit and I pressed it.
I shook up my body, and I lost that girl.
Well I made my first mistake
Asking that little girl to wait
She was the icing on my cake
And now she's gone, and I lost that girl.
She gives me the heebie-jeebies
Shakes me down to my knees.
She waits till I really get rolling
Then she passes me like a breeze
You know the red light sealed my fate
I knew then I'd be late
When I got there she gave me the freeze
She said « you're gone boy », and I lost that girl
Help me find her Dick.
I was out in search of a good time
Scanning the streets I felt fine
I fell for that perfect double cross
Lucked out, and I lost that girl.
Policeman in the car park,
Waiting for me outside
You know he give me that real heat treatment
When the flashlight hit my eyes.
You know I made my second mistake
Asking that cop to wait
He said « I'm gonna put you away for good, and
You'll be gone » and he said « here boy you're really dead. »
Lost that girl.
---
← Sea of Blue — Lost That Girl — Bitter End →