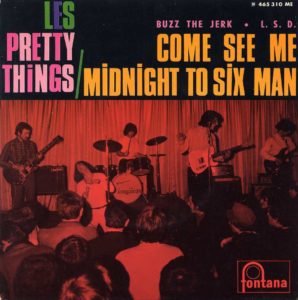 Come See Me est le troisième EP français des Pretty Things. Il est sorti fin 1966 sur le label Fontana.
Sa pochette est quasiment identique à celle du 33 tours Midnight to Six Man, sorti uniquement en France la même année. Il s'agit d'une photo du groupe sur la scène de la Locomotive, à Paris, prise par Bernard Leloup.
Ce disque est l'objet d'une critique élogieuse de Jacques Barsamian dans le premier numéro de Rock & Folk, daté de novembre 1966 :
L'un des meilleurs super 45 t de ce groupe cet automne. Les quatre titres sont excellents aussi bien pour l'écoute que pour danser le jerk. Le soliste a une sonorité qui lui est propre et le batteur un rôle important ; quant au chanteur, il « chauffe » le tout. À l'exception de « Come see me », tous les titres sont de leur composition.
Comme les autres EP français du groupe, Come See Me a été réédité en 2017 en édition limitée dans le coffret The French EPs 1964–69.
Titres
Face 1
Come See Me (Sidney Barnes, J. J. Jackson, Pierre Tubbs) – 2 min 45 s
Buzz the Jerk (Phil May, Dick Taylor) – 1 min 50 s
Face 2
Midnight to Six Man (Phil May, Ian Stirling, Dick Taylor) – 2 min 10 s
£.s.d. (Phil May, Dick Taylor) – 2 min 22 s
Éditions
1966 : 45 tours, France, Fontana 465.310 ME