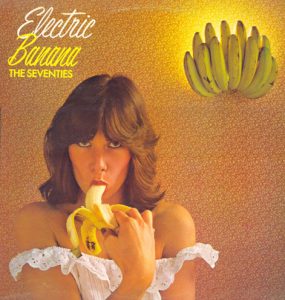 The Seventies est une compilation d'Electric Banana sortie en 1978 chez Butt Records.
Elle rassemble les versions chantées des chansons parues sur les quatrième et cinquième album enregistrés par les Pretty Things pour DeWolfe : les six titres de Hot Licks (1973) sur la face 1 et les cinq de The Return of the Electric Banana (1978) sur la face 2. Le tout est emballé dans une pochette pour le moins suggestive.
L'anthologie bananière de Butt Records se poursuit et se conclut avec The Sixties, une compilation des chansons des trois autres albums d'Electric Banana sortie l'année suivante.
Titres
Face 1
Face 2
Participants
Phil May : chant
Peter Tolson : guitare (face 1)
Jon Povey : claviers, batterie, chœurs (face 1)
Gordon Edwards : claviers, guitare, chœurs (face 1)
Mickey Finn : guitare (face 2)
Wally Waller : chant, basse, guitare (face 2)
Brian Johnson : claviers (face 2)
Bill Lovelady : mandoline sur Whiskey Song
Cooke Key : pochette
Brian Cooke : photographie
Éditions
1978 : 33 tours, Royaume-Uni, Butt NOTT 001