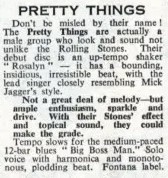 PRETTY THINGS

Don't be misled by their name! The Pretty Things are actually a male group who look and sound not unlike the Rolling Stones. Their debut disc is an up-tempo shaker "Rosalyn"—it has a bounding, insidious, irresistible beat, with the lead singer closely resembling Mick Jagger's style.

Not a great deal of melody—but ample enthusiasm, sparkle and drive. With their Stones' effect and topical sound, they could make the grade.

Tempo slows for the medium-paced 12-bar blues "Big Boss Man." Solo voice with harmonica and monotonous, plodding beat. Fontana label.
Source : https://1960smusicmagazines.com/2018/11/07/nme-may-8-1964/