Cet entrefilet a paru dans le numéro de l'hebdomadaire britannique NME daté du 24 août 1968.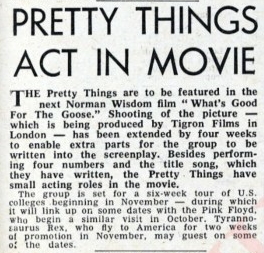 Transcription
The Pretty Things are to be featured in the next Norman Wisdom film "What's Good For The Goose." Shooting of the picture—which is being produced by Tigron Films in London—has been extended by four weeks to enable extra parts for the group to be written into the screenplay. Besides performing four numbers and the title song, which they have written, the Pretty Things have small acting roles in the movie.
The group is set for a six-week tour of U.S. colleges beginning in November—during which it will link up on some dates with the Pink Floyd, who begin a similar visit in October. Tyrannosaurus Rex, who fly to America for two weeks of promotion in November, may guest on some of the dates.
---
Source : WorldRadioHistory.com (PDF).