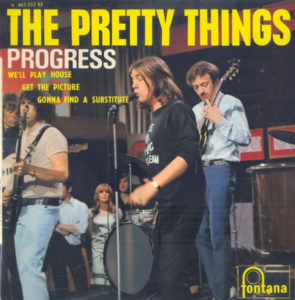 Progress est le quatrième et dernier EP français des Pretty Things. Il est sorti en 1967 sur le label Fontana.
Il inclut Progress, la face A du dernier single en date du groupe, mais les trois autres chansons sont des vieilleries tirées de l'album Get the Picture? sorti plus d'un an auparavant au Royaume-Uni. Il est vrai que le tunnel sous la Manche n'existait pas encore…
Une coquille amusante sur la pochette arrière et le macaron : Ike Turner devient Mike Turner.
Jacques Barsamian, qui n'avait eu que de bonnes choses à dire sur son prédécesseur Come See Me, est à nouveau l'auteur d'une critique élogieuse dans le sixième numéro du jeune mensuel Rock & Folk, daté d'avril 1967 :
Quatrième super 45 t de ce groupe anglais que je considère toujours comme l'un des meilleurs sur disque : style très personnel, surtout grâce à la voix étrange de leur chanteur Phil May et aux excellents solos de guitare de Dick Taylor. Pour la première fois, ils sont accompagnés par des cuivres dans « Progress », leur dernier titre sorti en Angleterre où, malheureusement, ils semblent bien avoir perdu la cote. Les trois autres chansons sont extraites de leur album français. Dans l'ensemble, un bon disque et une bonne pochette.
Comme les autres EP français du groupe, Progress a été réédité en 2017 en édition limitée dans le coffret The French EPs 1964–69.
Titres
Face 1
Progress (Bob Halley, Carl Spencer) – 2 min 40 s
We'll Play House (Aldo, Fred Gandy, Phil May, Dick Taylor) – 2 min 33 s
Face 2
Get the Picture? (Phil May, Dick Taylor) – 1 min 55 s
Gonna Find Me a Substitute (Ike Turner) – 2 min 59 s
Éditions
1967 : 45 tours, France, Fontana 465.353 ME