Cet entrefilet est paru dans le numéro 1190 de l'hebdomadaire britannique New Musical Express, daté du 5 avril 1969. Il annonce la conclusion du contrat entre les Pretty Things et la maison de disques Tamla Motown, qui publie S. F. Sorrow sur le sol américain à la fin de l'année sur son label Rare Earth Records.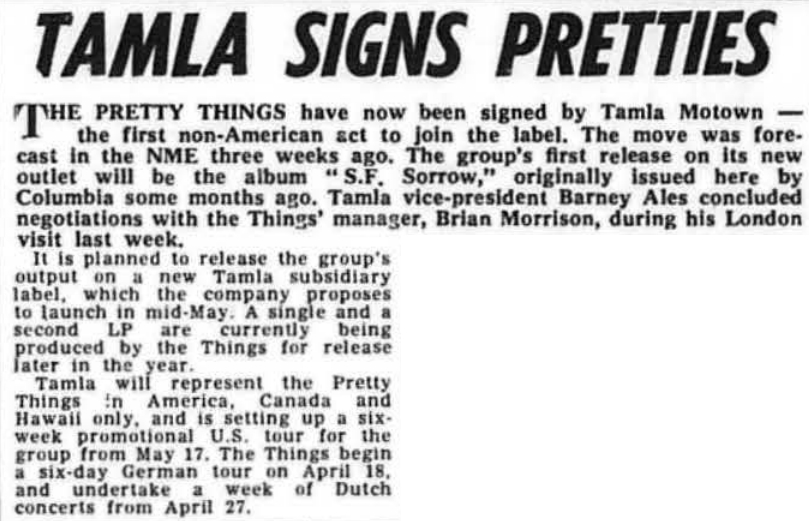 Transcription
THE PRETTY THINGS have now been signed by Tamla Motown—the first non-American act to join the label. The move was forecast in the NME three weeks ago. The group's first release on its new outlet will be the album "S. F. Sorrow," originally issued here by Columbia some months ago. Tamla vice-president Barney Ales concluded negociations with the Things' manager, Brian Morrison, during his London visit last week.
It is planned to release the group's output on a new Tamla subsidiary label, which the company proposes to launch in mid-May. A single and a second LP are currently being produced by the Things for release later in the year.
Tamla will represent the Pretty Things in America, Canada and Hawaii only, and is setting up a six-week promotional U.S. tour for the group from May 17. The Things begin a six-day German tour on April 18, and undertake a week of Dutch concerts from April 27.
---
Source : WorldRadioHistory.com (PDF).