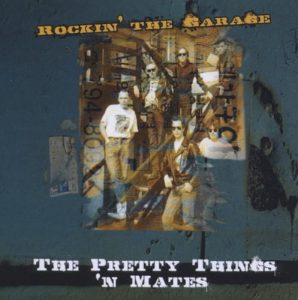 A Whiter Shade of Dirty Water est un album sorti sous le nom passablement alambiqué de « Pretty Things 'n' Mates with Matthew Fisher » en 1994.
Il est issu de la collaboration entre le tandem Phil May–Dick Taylor et trois membres du groupe de pub rock The Inmates, le guitariste Tony Oliver, le bassiste Ben Donnelly et le batteur Eddie Edwards. Avec l'aide de Matthew Fisher, ancien piano de Procol Harum, ils enregistrent en décembre 1992 aux studios E7 et RMS une douzaine de reprises de vieux classiques du garage rock américain, comme Louie Louie des Kingsmen, Strychnine des Sonics ou encore 96 Tears de Question Mark and the Mysterians. Le tout est couronné par une nouvelle version de Midnight to Six Man.
Cet album obscur (mais pêchu !) a été réédité sous le titre Rockin' the Garage en 2010.
Titres
He's Waitin' (Gerry Roslie) – 2 min 43 s
Strychnine (Gerry Roslie) – 2 min 17 s
Pushing Too Hard (Ian Carnochan, Eddie Edwards) – 2 min 24 s
Kicks (Charlie Harper, Nicky Garrett) – 3 min 5 s
Candy (Larry Jenkins, Tomi Blackman) – 2 min 20 s
Louie Louie (Richard Berry) – 3 min 26 s
96 Tears (Rudy Martinez) – 3 min
Let's Talk About Girls (Manny Freiser) – 3 min 21 s
Sometimes Good Guys Don't Wear White (Ed Cobb) – 2 min 45 s
I'm a Man (Ellas McDaniel) – 3 min 21 s
Red River Rock (Ira Mack, Tom King, Fred Mendelsohn) – 3 min 15 s
Midnight to 6 Man '93 (Phil May, Dick Taylor) – 3 min 16 s
Participants
Phil May : chant
Dick Taylor : guitare lead, guitare rythmique
Tony Oliver : guitare lead, guitare rythmique, guitare douze cordes
Ben Donnelly : basse
Eddie Edwards : batterie
Matthew Fisher : claviers
Garrie Lammin : guitare, chœurs
Barclay Maclay : guitare sur Pushing Too Hard, Kicks et Midnight to 6 Man '93
Eddie Phillips : guitare lead sur I'm a Man
Keith Grant : basse sur I'm a Man
Jim McCarty : batterie sur I'm a Man
Mike Ober : production, mixage
Steve Hooker : producteur associé, guitare sur Pushing Too Hard
Don Craine : producteur associé, guitare sur I'm a Man
Simon Sanders, Dave Clews : ingénieurs du son
Principales éditions
1994 : CD, Royaume-Uni, Kingdom CDKVL 9031
2008 : CD, Royaume-Uni, Retroworld FLOATM 6073