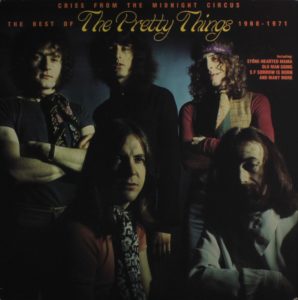 Cries from the Midnight Circus: The Best of The Pretty Things 1968–1971 est une compilation des Pretty Things sortie en 1986 chez Harvest Records.
Elle comprend, dans cet ordre, cinq titres issus de S. F. Sorrow, quatre de Parachute et trois des singles de 1970-1971.
Le livret est dû à la plume du journaliste Paul Cox, déjà auteur de celui de la précédente compilation des Pretties chez Harvest, The Pretty Things Singles A's and B's (1977).
Titres
Face 1
Face 2
Grass (Phil May, Wally Waller) – 4 min 18 s
She's a Lover (Phil May, Wally Waller) – 3 min 28 s
What's the Use (Phil May, Wally Waller) – 1 min 42 s
Cold Stone (Phil May, Peter Tolson, Wally Waller) – 3 min 8 s
October 26 (Phil May, Wally Waller) – 4 min 52 s
Stone-Hearted Mama (Phil May, Wally Waller) – 3 min 25 s
Participants
Éditions
1986 : 33 tours, Royaume-Uni, Harvest EMS 1119