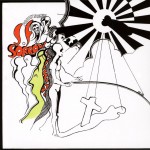 Paroles et traduction
As your loved ones they place
Heavy stones on your face
Your sonnets of life
They are filling the case
High windows inside me
Look down on your face.
Changing white fingers
For men in the sand
Burning bright spears
That you hold in your hand
Grey children you've spawned
They just won't understand
As the slow pulse of sobbing
Dries from the sky
My grief in red circles
Surrounding an eye
Grey child stands looking
And passes on by.
Ceux que tu as aimés placent
De lourdes pierres sur ton visage
Tes sonnets sur la vie
Ils bouchent les trous
Les hautes fenêtres à l'intérieur de moi
Baissent les yeux sur ton visage.
Des doigts blancs qui changent
Pour les hommes dans le sable
Des lances étincelantes qui brûlent
Tu les tiens dans ta main
Les enfants gris que tu as engendrés
Ils refusent tout bonnement de comprendre
Le rythme lent des sanglots
S'assèche dans le ciel
Mon chagrin en cercles écarlates
Qui entourent un œil
Un enfant gris regarde la scène
Et poursuit son chemin.
---
← Balloon Burning — Death — Baron Saturday →