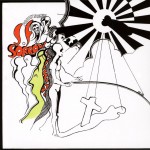 Cas unique dans l'histoire des Pretty Things : I See You est d'abord sortie sur un album estampillé « Electric Banana » (le second) avant d'avoir les honneurs d'un disque officiel du groupe.
Paroles
As evening shadows chase the sun
The night is here my day is done.
Through dark forests of my mind
A light is shone – it's you I find.
I see you.
On a dark and windswept street
The faces I see of the people I meet.
With their eyes they build a shrine
That takes me back to the forests of my mind
I see you.
Silent shadows creep on walls.
Catch the wind it's yours to catch
She's going away.
As I look into the sea,
The waves they break and part for me.
As my mind slips into sand
The water returns with the warmth of your hand.
I see you.
Traduction
Les ombres de la soirée chassent le soleil :
La nuit est arrivée, ma journée s'achève.
Dans les noires forêts de mon esprit
Brille une lumière : c'est toi qui je trouve.
Je te vois.
Dans une rue sombre, balayée par le vent
Je vois les visages des gens que je croise.
Ils édifient de leurs yeux un sanctuaire
Qui me ramène aux forêts de mon esprit.
Je te vois.
Des ombres silencieuses rampent sur les murs.
Attrape le vent, il n'attend que toi
Elle s'en va.
Je contemple la mer,
Les vagues se brisent et s'ouvrent pour moi.
Mon esprit s'enfonce dans le sable
L'eau revient avec la chaleur de ta main.
Je te vois.
---
← The Journey — I See You — Well of Destiny →
I See You — Street Girl →