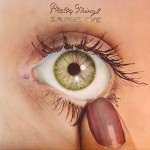 Auteurs : Phil May
Album : Savage Eye (1975)
Durée : 5 min 4 s
Éditeur : Sole Survivors Music
Compilations :
Reprises :

Maggie Bell sur l'album Suicide Sal (1975)
Paroles

et traduction

I went down to the muddy river
Where the blind fish do swim.
I saw the face on the drowning moon
And I nearly jumped in.

Sad sirens on the water
They call to me through the night.
They sing of you, their song is blue,
and so is the pain.

It's been so long.

Oh Lord, won't you help me,
Now I'm in such distress,
My song is blue, and so are you,
That's why I'm in such a mess.

It's been so long.

Out in the moonlight,
Beside Macadam highway,
You put out your thumb, Maggie baby,
You sure went a long way.

The neon angel passed you by,
The sad old river gently sighed,
Separated from our past,
We sometimes die.

It's been so long.

Je suis allé au bord du fleuve boueux
Où nagent les poissons aveugles.
J'ai vu le visage de la lune qui se noyait
Et j'ai failli sauter.

Les sirènes tristes sur l'eau
M'appellent tout au long de la nuit.
Leur chanson parle de toi, elle est triste,
Tout comme la douleur.

Ça fait si longtemps.

Mon Dieu, viens-moi en aide,
Je suis tombé tellement bas,
Ma chanson est triste et toi aussi,
C'est pour ça que je suis dans cet état.

Ça fait si longtemps.

Sous la lumière de la lune
Près de l'autoroute macadam,
Tu tends le pouce, Maggie bébé,
T'as fait un sacré bout de chemin.

L'ange de néon t'a dépassée,
Le triste vieux fleuve a poussé un léger soupir,
Quand on est séparé de son passé,
Parfois, on meurt.

Ça fait si longtemps.
---
← I'm Keeping — It's Been So Long — Drowned Man →