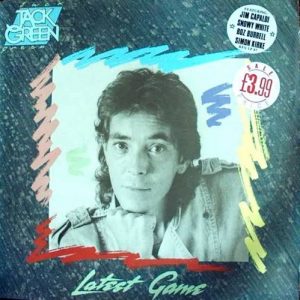 Latest Game est le quatrième album solo de Jack Green, sorti en 1986.
Signe des temps : la production accuse sérieusement son âge, avec des synthétiseurs omniprésents et une batterie qui pourrait aussi bien être une boîte à rythme pour ce qu'elle apporte.
C'est dommage, parce que Green s'est entouré de musiciens prestigieux : Boz Burrell et Simon Kirke se sont faits connaître avec Bad Company (a-t-il fait leur connaissance pendant la période Swan Song des Pretty Things ?), John Bundrick a joué avec les Who, Snowy White avec Pink Floyd, Jim Capaldi avec Traffic et Kelly Groucutt avec Electric Light Orchestra.
Après la sortie de ce Latest Game au titre prémonitoire, Green met sa carrière musicale entre parenthèses pendant plusieurs décennies. Ce n'est qu'en 2020 qu'il fait son retour avec The Party at the End of the World.
Titres
Face 1
Sweet Lover – 3 min 7 s
Latest Game (John Mellencamp) – 3 min 34 s
Television – 3 min 20 s
Loving and Knowing – 2 min 47 s
You Don't Have to Love Me – 4 min 23 s
Face 2
American Fool (John Mellencamp) – 3 min 43 s
Win Your Love – 3 min 25 s
Right Now – 3 min 19 s
Difficult to Cure – 3 min 18 s
I've Had Enough – 3 min 19 s
Participants
Jack Green : chant, guitare rythmique, producteur, ingénieur du son
Boz Burrell : basse (sauf sur Right Now)
Simon Kirke : batterie (sauf sur Right Now)
Kelly Groucutt : basse sur Right Now, synthétiseur
John « Rabbit » Bundrick : claviers
Snowy White : guitare sur Sweet Lover, Win Your Love et I've Had Enough
John Canham : guitare sur Latest Game, Television, Loving and Knowing, American Fool, Right Now et Difficult to Cure, ingénieur du son assistant
Jim Capaldi : percussions sur Win Your Love
John Etchells : producteur, ingénieur du son
Gary Underhill : pochette
Les Massey : photographie
Principales éditions
1986 : 33 tours, Royaume-Uni, FM Revolver Records REV LP 87