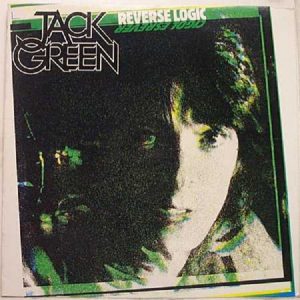 Reverse Logic est le deuxième album solo de Jack Green, sorti en 1981.
Dix nouvelles chansons de power pop, dans la continuité de Humanesque. Peter Tolson est toujours là pour donner un coup de main à la guitare, et il cosigne même une chanson cette fois-ci : Sign of the Times.
Deux clips ont été tournés pour les chansons One by One et When I Was Young.
Titres
Face 1
One by One (Jack Green) – 3 min 39 s
(Why Don't You) Let Me Go (Jack Green) – 4 min 24 s
Cold Modern Day (Jack Green) – 3 min 52 s
When I Was Young (Leslie Adey, Jack Green) – 3 min 23 s
It's a Hard World (Jack Green) – 3 min 52 s
Let It Rock (Jack Green) – 2 min 56 s
Face 2
Too Many Fools (Jack Green) – 3 min 5 s
Set Me Free (Jack Green) – 3 min 42 s
Brave Madonna (Jack Green) – 3 min 28 s
Sign of the Times (Jack Green, Peter Tolson) – 5 min 24 s
Promises (Jack Green) – 3 min 31 s
Participants
Jack Green : chant, chœurs, guitare rythmique, production, concept de la pochette
Peter Tolson : guitare lead sur One by One, (Why Don't You) Let Me Go, Cold Modern Day, Let It Rock, Too Many Fools, Sign of the Times et Promises
Andy Dalby : guitare lead sur Cold Modern Day, When I Was Young, Set Me Free, Brave Madonna
Ian Ellis : basse
Simon Fox : batterie
Brian Chatton : claviers
Mel Collins : saxophone sur It's a Hard World et Sign of the Times
George Serghi : chœurs sur (Why Don't You) Let Me Go, When I Was Young, It's a Hard World, Brave Madonna et Promises
John McBurnie : chœurs sur Sign of the Times
Peter Kuys : producteur exécutif
Jo Julian : ingénieur du son (The Music Works et Sound Arts)
Mike Pela : ingénieur du son (Eel Pie Studios)
Llew Horowitz : ingénieur du son (Sound Arts), mastering
Barry Oslander, Ed DeJoy : mastering
Greg Fulginiti : ingénieur du son (Kendun Studios)
John Warwicker-Le-Breton : réalisation de la pochette
Principales éditions
1981 : 33 tours, France, RCA Victor PL 14122