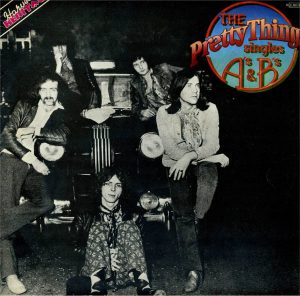 The Pretty Things Singles A's & B's est une compilation des Pretty Things sortie en 1977 chez Harvest Records.
Elle rassemble tous les morceaux publiés en 45 tours entre 1967 et 1971, de Defecting Grey à Stone-Hearted Mama. La pochette arrière inclut une brève biographie du groupe par Paul Cox.
Elle est rééditée en 1982 par le label britannique See for Miles sous le titre The Pretty Things 1967–1971.

Titres
Face 1
Face 2
The Good Mr. Square (Phil May, Wally Waller) – 4 min 29 s
Blue Serge Blues (Phil May, Jon Povey, Wally Waller) – 3 min 51 s
October 26 (Phil May, Wally Waller) – 4 min 52 s
Cold Stone (Phil May, Peter Tolson, Wally Waller) – 3 min 8 s
Summer Time (Phil May, Peter Tolson, Wally Waller) – 4 min 27 s
Circus Mind (Phil May, Peter Tolson) – 1 min 59 s
Stone-Hearted Mama (Phil May, Wally Waller) – 3 min 25 s
Participants
Éditions
1977 : 33 tours, Royaume-Uni, Harvest SHSM 2022
1982 : 33 tours, Royaume-Uni, See for Miles CM 103
1989 : CD, Royaume-Uni, See for Miles SEE CD 103