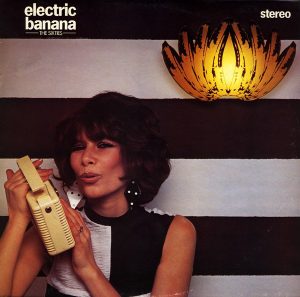 The Sixties est une compilation d'Electric Banana sortie en 1979 chez Butt Records.
Elle rassemble les versions chantées des chansons parues sur les deuxième et troisième albums enregistrés par les Pretty Things pour DeWolfe, More Electric Banana (1968) et Even More Electric Banana (1969).
Elle fait suite à The Seventies, compilation également publiée par Butt en 1978. Ces deux disques rassemblent ainsi la quasi-totalité des chansons parues sous le nom d'Electric Banana, les seules manquant à l'appel étant les cinq de l'album Electric Banana (1967) et l'instrumental Rave Up.
Titres
Face 1
Face 2
I See You (Phil May, Jon Povey, Dick Taylor, Wally Waller) – 3 min 45 s
Alexander (Phil May, Jon Povey, Dick Taylor, Wally Waller) – 3 min 5 s
Eagle's Son (Phil May, Jon Povey, Dick Taylor, Wally Waller) – 3 min 11 s
I Love You (May, Wilkinson) – 2 min 19 s
Blow Your Mind (Phil May, Jon Povey, Dick Taylor, Wally Waller) – 3 min 34 s
Participants
Éditions
1979 : 33 tours, Royaume-Uni, Butt NOTT 003