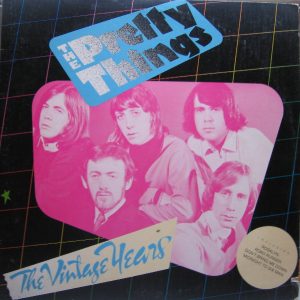 The Vintage Years est une compilation des Pretty Things sortie en 1976 chez Sire Records.
Sans surprise avec un titre pareil, elle se consacre uniquement à la période Fontana du groupe, avec vingt-huit titres sortis entre 1964 et 1967, en 45 tours et sur les trois premiers albums des Pretties.
The Vintage Years est en fait le titre d'une série de compilations publiées par Sire entre 1975 et 1977. Parmi les artistes ainsi anthologisés, on trouve des gloires du vieux rock 'n' roll comme Duane Eddy et Del Shannon, mais surtout des groupes anglais des années 1960 : les Troggs, les Nice, les Small Faces, et donc les Pretty Things.
Titres
Face 1
Don't Bring Me Down (Johnnie Dee) – 2 min 13 s
Road Runner (Ellas McDaniel) – 3 min 9 s
Come See Me (Sidney Barnes, J. J. Jackson, Pierre Tubbs) – 2 min 35 s
Rainin' in My Heart (James Moore) – 2 min 27 s
13 Chester Street (The Pretty Things) – 2 min 17 s
I Can Never Say (Phil May, Dick Taylor) – 2 min 32 s
Honey I Need (Dick Taylor, « Button », « Smithling ») – 1 min 57 s
Face 2
Rosalyn (Jimmy Duncan, Bill Farley) – 2 min 17 s
Can't Stand the Pain (Bobby Graham, Phil May, Dick Taylor) – 2 min 40 s
The Moon Is Rising (Jimmy Reed) – 2 min 28 s
Judgement Day (adapté par les Pretty Things) – 2 min 41 s
Mama Keep Your Big Mouth Shut (Ellas McDaniel) – 2 min 55 s
Gonna Find a Substitute (Ike Turner) – 2 min 56 s
Oh Baby Doll (Chuck Berry) – 2 min 55 s
Face 3
Midnight to Six Man (Phil May, Dick Taylor) – 2 min 17 s
Buzz the Jerk (Phil May, Dick Taylor) – 1 min 52 s
We'll Play House (Phil May, Dick Taylor, Aldo, Fred Gandy) – 2 min 32 s
Cry to Me (Bert Russell) – 2 min 51 s
Don't Lie to Me (Hudson Whittaker) – 3 min 47 s
Unknown Blues (Stephen Tarter) – 3 min 43 s
Big City (Jimmy Duncan, Alan Klein) – 1 min 57 s
Face 4
Tripping (Phil May, Dick Taylor) – 3 min 21 s
Photographer (Phil May, Ian Stirling, Dick Taylor) – 2 min 5 s
A House in the Country (Ray Davies) – 2 min 58 s
Progress (Bob Halley, Carl Spencer) – 2 min 39 s
She's Fine She's Mine (Ellas McDaniel) –

4:15

£.s.d. (Phil May, Dick Taylor) – 2:20
Pretty Thing (Willie Dixon) – 1:34
Participants
Principales éditions
1976 : 2 × 33 tours, États-Unis, Sire SASH-3713-2