Cet article non signé est paru dans le bi-hebdomadaire américain Circus daté du 13 septembre 1976. Comme son titre l'indique, il annonce le départ de Phil May des Pretty Things.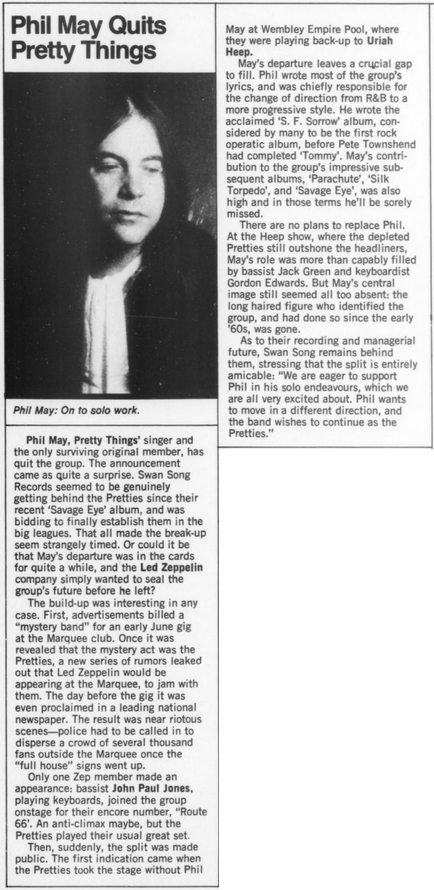 Transcription
Phil May, Pretty Things' singer and the only surviving original member, has quit the group. The announcement came as quite a surprise. Swan Song Records seemed to be genuinely getting behind the Pretties since their recent 'Savage Eye' album, and was bidding to finally establish them in the big leagues. That all made the break-up seem strangely timed. Or could it be that May's departure was in the cards for quite a while, and the Led Zeppelin company simply wanted to seal the group's future before he left?
The build-up was interesting in any case. First, advertisements billed a "mystery band" for an early June gig at the Marquee club. Once it was revealed that the mystery act was the Pretties, a new series of rumors leaked out that Led Zeppelin would be appearing at the Marquee, to jam with them. The day before the gig it was even proclaimed in a leading national newspaper. The result was near riotous scenes—police had to be called in to disperse a crowd of several thousand fans outside the Marquee once the "full house" signs went up.
Only one Zep member made an appearance: bassist John Paul Jones, playing keyboards, joined the group onstage for their encore number, "Route 66'. An anti-climax maybe, but the Pretties played their usual great set.
Then, suddenly, the split was made public. The first indication came when the Pretties took the stage without Phil May at Wembley Empire Pool, where they were playing back-up to Uriah Heep.
May's departure leaves a crucial gap to fill. Phil wrote most of the group's lyrics, and was chiefly responsible for the change of direction from R&B to a more progressive style. He wrote the acclaimed 'S. F. Sorrow' album, considered by many to be the first rock operatic album, before Pete Townshend had completed 'Tommy'. May's contribution to the group's impressive subsequent albums, 'Parachute', 'Silk Torpedo', and 'Savage Eye', was also high and in those terms he'll be sorely missed.
There are no plans to replace Phil. At the Heep show, where the depleted Pretties still outshone the headliners, May's role was more than capably filled by bassist Jack Green and keyboardist Gordon Edwards. But May's central image still seemed all too absent: the long haired figure who identified the group, and had done so since the early '60s, was gone.
As to their recording and managerial future, Swan Song remains behind them, stressing that the split is entirely amicable: "We are eager to support Phil in his solo endeavours, which we are all very excited about. Phil wants to move in a different direction, and the band wishes to continue as the Pretties."
---
Source : Internet Archive.