Cet article non signé est paru dans l'hebdomadaire britannique Music Echo daté du 20 mars 1965. Sous ce titre à l'humour un peu noir se cachent des histoires d'accidents de voiture à répétition.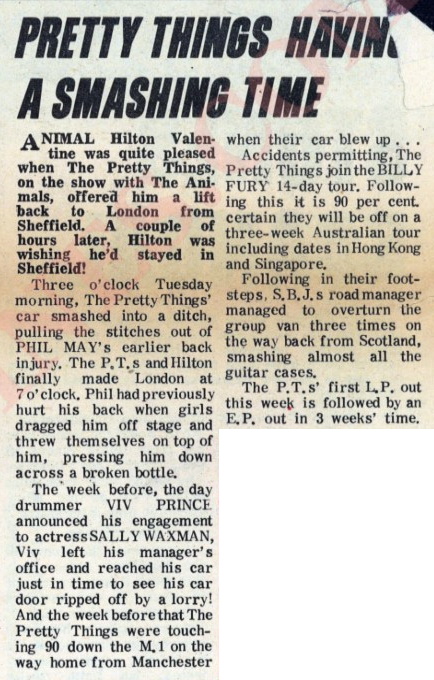 Transcription
ANIMAL Hilton Valentine was quite pleased when The Pretty Things, on the show with The Animals, offered him a lift back to London from Sheffield. A couple of hours later, Hilton was wishing he'd stayed in Sheffield!
Three o'clock Tuesday morning, The Pretty Things' car smashed into a ditch, pulling the stitches out of PHIL MAY's earlier back injury. The P.T.s and Hilton finally made London at 7 o'clock. Phil had previously hurt his back when girls dragged him off stage and threw themselves on top of him, pressing him down across a broken bottle.
The week before, the day drummer VIV PRINCE announced his engagement to actress SALLY WAXMAN, Viv left his manager's office and reached his car just in time to see his car door ripped off by a lorry! And the week before that The Pretty Things were touching 90 down the M1 on the way home from Manchester when their car blew up…
Accidents permitting, The Pretty Things join the BILLY FURY 14-day tour. Following this it is 90 per cent certain they will be off on a three-week Australian tour including dates in Hong Kong and Singapore.
Following in their footsteps, S.B.J.s road manager managed to overturn the group van three times on the way back from Scotland, smashing almost all the guitar cases.
The P.T.s' first L.P. out this week is followed by an E.P. out in 3 weeks' time.