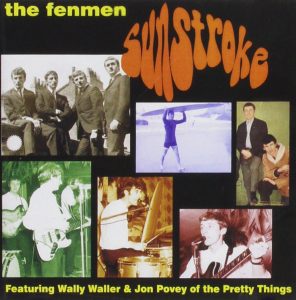 Sunstroke est une compilation des Fenmen sortie en 2010.
Les Fenmen sont le premier groupe avec lequel Wally Waller et Jon Povey ont enregistré. Formés à Bexleyheath en 1962, ils ont connu un succès fugace en 1963 avec leur reprise de Money (That's What I Want). Après le départ du chanteur-leader Bern Elliott début 1964, l'aventure se poursuit sans lui, avec une répartition plus démocratique des parties de chant entre les quatre membres restants du groupe. Leurs 45 tours suivants, très influencés par des groupes californiens comme les Beach Boys ou les Mamas & the Papas, passent inaperçus. Les Fenmen disparaissent début 1967, après le départ de Waller et Povey qui rejoignent les Pretty Things.
Le projet Sunstroke, porté avec l'aide de Mike Stax, enjambe plus de quarante années : on y trouve les tout premiers enregistrements réalisés par les Fenmen en 1963 aux côtés de nouvelles chansons enregistrées par Wally Waller et Jon Povey en 2009. Le duo, baptisé pour l'occasion « The Bexley Brothers » (un clin d'œil à David Bowie ?), se fait visiblement plaisir sur ces compositions gorgées d'harmonies vocales.
Titres
California Dreamin' (John Phillips, Michelle Phillips) – 2 min 26 s (1966)
California Will (Wally Waller) – 4 min 47 s (2009)
The Warmth of the Sun (Brian Wilson, Mike Love) – 2 min 42 s (1965)
The Sun (Phil May, Wally Waller) – 4 min 20 s (2009)
Sunstroke (Wally Waller) – 1 min 49 s (1966/2009)
Papa Oom Mow Mow (Carl White, Al Frazier, Sonny Harris, Turner Wilson Jr.) – 2 min 13 s (1966)
Is This Your Way (Wally Waller) – 2 min 1 s (1966)
It Takes a Lot (Wally Waller) – 4 min 11 s (2009)
Rejected (Wally Waller) – 2 min 13 s (1966)
(You're Gonna) Hurt Yourself (Bob Crewe, Charlie Calello) – 2 min 32 s (1966)
It's No Disgrace (Jon Povey) – 4 min 24 s (2009)
Come to the Party (Geoff Stephens, Ken Lewis, John Carter) – 1 min 53 s (1965)
Is This Your Way (Wally Waller) – 2 min 7 s (1966, BBC)
Life's Highway (Wally Waller) – 4 min 12 s (2009)
Mashed Potatoes (Dessie Rozier) – 2 min 24 s (1963)
Do You Love Me (Berry Gordy Jr.) – 2 min 25 s (1963)
Life's Highway (Reprise) (Wally Waller) – 1 min 51 s (2009)
Participants
Bern Elliott : chant sur Mashed Potatoes et Do You Love Me
Alan Judge : guitare, chant sur Is This Your Way
Jon Povey : claviers, batterie, chant sur The Sun, Papa Oom Mow Mow, Is This Your Way, Rejected, (You're Gonna) Hurt Yourself et It's No Disgrace
Wally Waller : basse, guitare, chant sur California Will, The Sun, Sunstroke, It Takes a Lot et Life's Highway, production
Eric Willmer : basse, chant sur California Dreamin', The Warmth of the Sun, (You're Gonna) Hurt Yourself et Come to the Party
Dick Taylor : guitare sur California Will et It Takes a Lot
Mike Stax : production, pochette
Mike Kamoo : mastering et restauration
Principales éditions
2010 : CD, Ugly Things UTCD 2208