Cet article de Vicky Trent est paru dans l'hebdomadaire britannique Pop Weekly daté du 17 juillet 1965. Prédire un futur radieux aux Pretty Things à cette date, il fallait oser ! Mais ça démontre bien l'injustice que constitue leur perpétuel manque de succès commercial après le milieu des années 1960.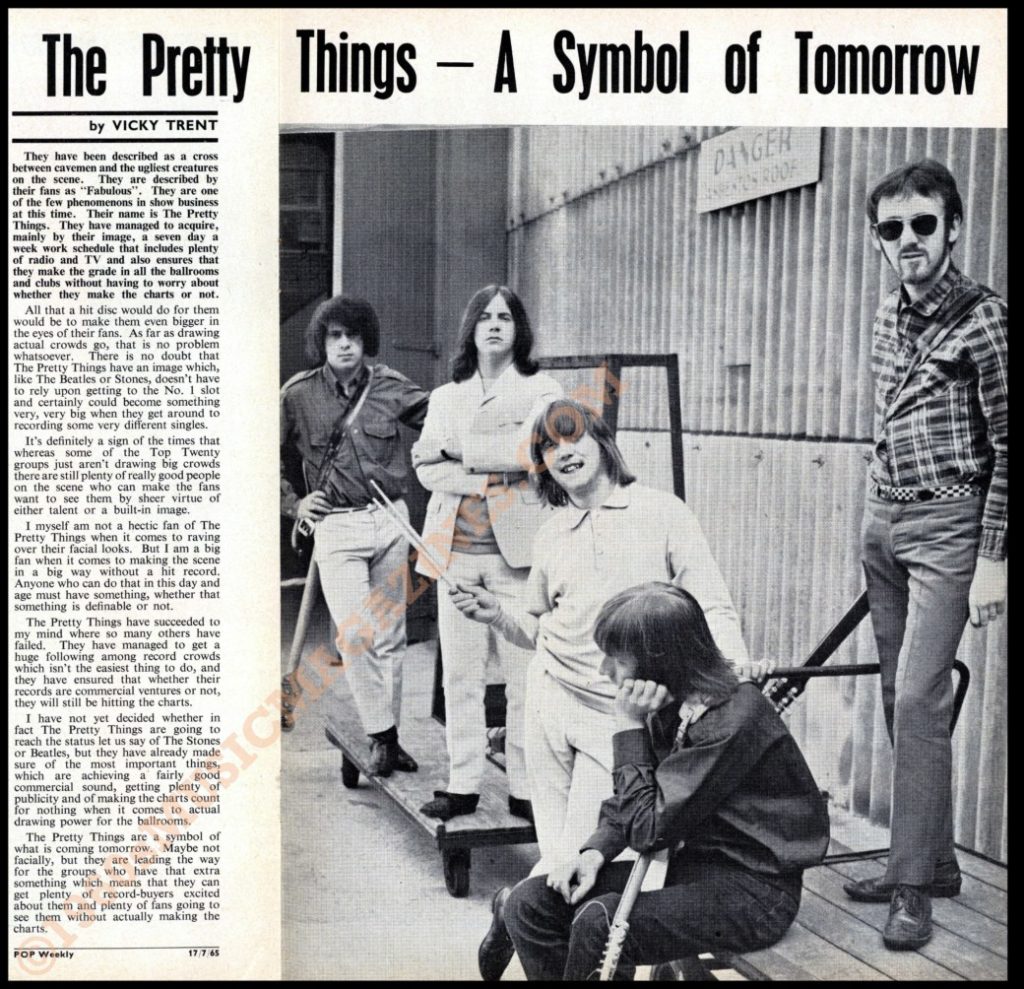 Transcription
They have been described as a cross between cavemen and the ugliest creatures on the scene. They are described by their fans as "Fabulous." They are one of the few phenomenons in show business at this time. Their name is The Pretty Things. They have managed to acquire, mainly by their image, a seven day a week work schedule that includes plenty of radio and TV and also ensures that they make the grade in all the ballrooms and clubs without having to worry whether they make the charts or not.
All that a hit disc would do for them would be to make them even bigger in the eyes of their fans. As far as drawing actual crowds go, that is no problem whatsoever. There is no doubt that The Pretty Things have an image which, like The Beatles or Stones, doesn't have to rely upon getting to the No. 1 slot and certainly could become something very, very big when they get around to recording some very different singles.
It's definitely a sign of the times that whereas some of the Top Twenty groups just aren't drawing big crowds there are still plenty of really good people on the scene who can make the fans want to see them by sheer virtue of either talent or a built-in image.
I myself am not a hectic fan of The Pretty Things when it comes to raving over their facial looks. But I am a big fan when it comes to making the scene in a big way without a hit record. Anyone who can do that in this day and age must have something, whether that something is definable or not.
The Pretty Things have succeeded to my mind where so many others have failed. They have managed to get a huge following among record crowds which isn't the easiest thing to do, and they have ensured that whether their records are commercial ventures or not, they will still be hitting the charts.
I have not yet decided whether in fact The Pretty Things are going to reach the status let us say of The Stones or Beatles, but they have already made some of the most important things, which are achieving a fairly good commercial sound, getting plenty of publicity and or making the charts count for nothing when it comes to actual drawing power for the ballrooms.
The Pretty Things are a symbol of what is coming tomorrow. Maybe not facially, but they are leading the way for the groups who have that extra something which means that they can get plenty of record-buyers excited about them and plenty of fans going to see them without actually making the charts.