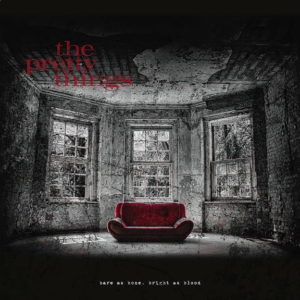 Bare as Bone, Bright as Blood est le treizième et, a priori, dernier album studio des Pretty Things. Il est sorti le 25 septembre 2020 chez Madfish.
Il s'agira d'un album entièrement composé de reprises, sur lequel le groupe est réduit à ses briques fondamentales : la voix de Phil May et la guitare de Dick Taylor. Une grande fragilité transparaît dans les deux extraits publiés en mai, The Devil Had a Hold on Me et To Build a Wall. Comme le dit Mark St. John dans son communiqué de presse, les deux musiciens accusent leur âge, mais ils savent en faire une force plutôt qu'une faiblesse. L'inspiration des derniers albums de Johnny Cash produits par Rick Rubin est palpable dans le choix des chansons (Ain't No Grave, Redemption Day) et des arrangements.
Titres
La version 33 tours de l'album n'inclut pas I'm Ready.
Participants
Phil May : chant
Dick Taylor : guitare acoustique, guitare slide
George Woosey : guitare acoustique
Henry Padovani : guitare acoustique
Sam Brothers : guitare acoustique, banjo, harmonica
Jon Wigg : violon
Mark St. John : percussions, producteur, ingénieur du son, mixage
Gwyn Mathias : mastering
Beech : pochette
Éditions
2020 : CD, Royaume-Uni, Snapper SMACD1134
2020 : 33 tours, Royaume-Uni, Snapper SMALP1134