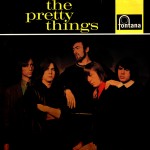 Auteurs : Hudson Whittaker
Album : The Pretty Things (1965)
Durée : 3 min 50 s
Éditeur : ARC Music
En concert :
Compilations :
Bien qu'il soit crédité à Chuck Berry dans le livret de l'album, ce blues est en réalité une composition de Hudson Whittaker, plus connu sous le pseudonyme de Tampa Red, publiée en 78 tours en 1940 sous le titre Don't You Lie to Me. Sa reprise par Chuck Berry, sortie en 1961 sur l'album New Juke Box Hits, a certainement contribué à populariser cette chanson, ainsi que l'idée erronnée que c'est lui qui l'a écrite.
Elle fait partie de ces chansons interprétées à la fois par les Pretty Things et les Rolling Stones. La version de la bande à Mick et Keith, enregistrée en 1964, n'a vu le jour qu'en 1975 sur la compilation Metamorphosis.
Paroles
Let's talk it over, baby, 'fore we start
I heard about the way you do your part
Don't lie to me, don't you lie to me
'Cause it makes me mad and I'm shook up as a man can be
There's two kinds of people that I just can't stand
That's a lying woman and a cheating man
Don't lie to me, don't you lie to me
'Cause it makes me mad and I'm shook up as a man can be
I can love you, baby, 'til the cows come home
[???] treat me wrong
Don't lie to me, don't you lie to me
'Cause it makes me mad and I'll get evil as a man can be
If you love me, baby, and it ain't no lie
[???] with you till the well runs dry
Don't lie to me don't you lie to me
'Cause it makes me mad and I'll get evil as a man can be
---
← She's Fine, She's Mine — Don't Lie to Me — The Moon Is Rising →