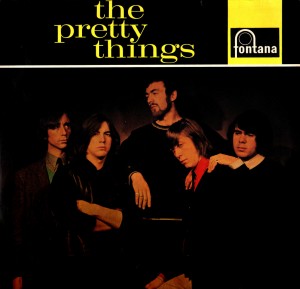 The Pretty Things est le premier album studio des Pretty Things. Il est sorti le 12 mars 1965 au Royaume-Uni chez Fontana Records.
Pas de mystère, les fées qui se sont penchées sur le berceau des Pretties avaient pour nom Bo Diddley et Chuck Berry ; la première leur a même offert leur nom de baptême. Quelques-unes des chansons ici présentes continuent à les accompagner sur scène un demi-siècle plus tard, des inusables comme Roadrunner et Mama, Keep Your Big Mouth Shut qui font toujours leur petit effet sur le public.
L'album aurait dû être produit par Jack Baverstock, le responsable A&R de Fontana, mais il a jeté l'éponge au bout d'une demi-heure en s'écriant : « Pas question que je reste avec cette bande d'animaux ! » Il faut dire qu'il avait suffi de trente minutes pour que Viv Prince vomisse sur sa batterie avant de s'effondrer par terre – à deux reprises… C'est Bobby Graham qui prend le relais. Batteur de session expérimenté, il n'a pas peur de laisser les Things jouer à fond la caisse, et il en faut davantage pour l'effrayer qu'un Viv Prince qui s'écroule derrière ses fûts.
Titres
Face 1
Roadrunner (Ellas McDaniel) – 3 min 11 s
Judgement Day (Bryan Morrison, arrangé par les Pretty Things) – 2 min 46 s
13 Chester Street (Phil May, Brian Pendleton, Viv Prince, John Stax, Dick Taylor) – 2 min 19 s
Big City (Jimmy Duncan, Alan Klein) – 2 min
Unknown Blues (Phil May, Brian Pendleton, Viv Prince, John Stax, Dick Taylor) – 3 min 47 s
Mama, Keep Your Big Mouth Shut (Ellas McDaniel) – 3 min
Face 2
La version américaine de l'album présente un contenu légèrement différent : les chansons sont dans le désordre et plusieurs d'entre elles sont remplacées par des titres parus en 45 tours. Rosalyn, Don't Bring Me Down, We'll Be Together et I Can Never Say remplacent ainsi Mama, Keep Your Big Mouth Shut, Oh Baby Doll, She's Fine She's Mine et Don't Lie to Me. La chanson Pretty Thing est quant à elle orthographiée à tort Pretty Things sur la pochette et le macaron central du disque…
Bonus
La plus récente réédition CD de The Pretty Things inclut six titres bonus :
Participants
Principales éditions
1965 : 33 tours, Royaume-Uni, Fontana TL 5239
1965 : 33 tours, États-Unis, Fontana SRF 67544 (stéréo)
1965 : 33 tours, États-Unis, Fontana MGF 27544 (mono)
1990 : CD, Royaume-Uni, Fontana 846 054-2
1997 : CD, Allemagne, SPV 085-89792 CD
2000 : CD, Royaume-Uni, Snapper SDPCD 115 (édition limitée)
2002 : CD, Allemagne, Repertoire REP 4927
Critiques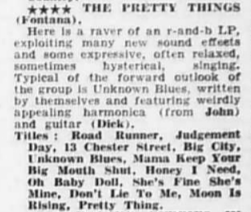 Here is a raver of an r-and-b LP, exploiting many new sound effects and some expressive, often relaxed, sometimes hysterical, singing. Typical of the forward outlook of the group is Unknown Blues, written by themselves and featuring weirdly appealing harmonica (from John) and guitar (Dick).

Allen Evans, New Musical Express, 26 février 1965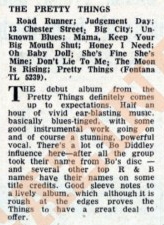 The debut album from the Pretty Things definitely comes up to expectations. Half an hour of vivid ear-blasting music, basically blues-tinged, with some good instrumental work going on and of course a stunning, powerful vocal. There's a lot of Bo Diddley influence here—after all the group took their name from Bo's disc—and several other top R & B names have their names on some title credits. Good sleeve notes to a lively album, which although it is rough at the edges proves the Things to have a great deal to offer.

★★★★


Norman Jopling et Peter Jones, Record Mirror, 27 mars 1965
Classements
Le premier album des Pretty Things s'est classé dans le Top 20 des ventes au Royaume-Uni pendant dix semaines, avec un pic à la sixième place. Cela reste à ce jour la meilleure performance du groupe dans le classement des meilleures ventes d'albums de leur pays d'origine.
| Date | Position | Évolution |
| --- | --- | --- |
| 27 mars 1965 | 17 | entrée |
| 3 avril 1965 | 10 | +7 |
| 10 avril 1965 | 9 | +1 |
| 17 avril 1965 | 6 | +3 |
| 24 avril 1965 | 7 | –1 |
| 1er mai 1965 | 8 | –1 |
| 8 mai 1965 | 13 | –5 |
| 15 mai 1965 | 15 | –2 |
| 22 mai 1965 | 15 | 0 |
| 29 mai 1965 | 17 | –3 |
---
Album suivant : Get the Picture? →