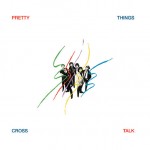 Dans une interview de 1980, Phil May explique que les paroles de cette chanson lui ont été inspirées par une toile de René Magritte. Il pourrait s'agir des Chasseurs au bord de la nuit (1928), un tableau particulièrement angoissant dont le titre anglais est Hunters at the Edge of Night, mais May en parle comme d'une œuvre abstraite, ce qui n'est pas vraiment le cas des Chasseurs. Il est possible que ses souvenirs du tableau ne soient pas parfaitement précis.
Paroles
I saw the canopies, beneath the buildings discreet
The hour's late and not a soul on the street,
As I stood alone there, at the edge of the night.
With all your wisdom, you had gone to bed early.
I hesitated and just think what it cost me
Just like a victim in the sights it doesn't feel right.
At the edge of the night.
I had the backbone but then, I heard it cracking.
I faced the terror but I found myself lacking
What good is courage here, at the edge of the night?
At the edge of the night.
There was this man,
Gun in his hand,
That wanted to waste me.
My mouth became dry,
I reached for the sky,
The sight seemed to freeze me.
He said he'd been a hero,
Now he'd fallen down to zero
Ain't it a crime?
I handed over all I had on my person,
My Bank America card and this was my first one,
Then he just stepped right out of sight, at the edge of the night.
At the edge of the night.
---
← I'm Calling — Edge of the Night — Sea of Blue →