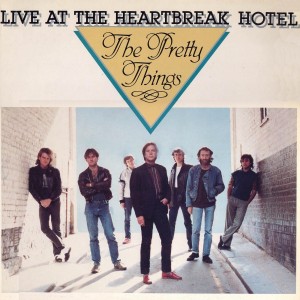 Live at the Heartbreak Hotel ou Live at Heartbreak Hotel est un album des Pretty Things sorti en 1984.
Au début de l'année 1983, Phil May est devenu le gérant du Bridge House, un club de rhythm and blues londonien situé dans le quartier de Little Venice. Il s'y produit régulièrement avec des musiciens issus d'horizons divers, dont Dick Taylor. Leur répertoire se compose surtout de reprises de vieux standards, avec un ou deux classiques des Pretty Things pour faire bonne mesure. Un ami du groupe, Phil Carson, convainc May d'enregistrer un de ces concerts, ce qui est fait le 13 mars 1984.
Live at the Heartbreak Hotel paraît quelques mois plus tard sur le label allemand Line Records, avant d'être édité par Big Beat au Royaume-Uni et WEA en France, avec autant de pochettes différentes. Il fait survivre le nom des Pretty Things, mais c'est bien le seul mérite qu'on puisse lui trouver.
Titres
Face 1
Big Boss Man (Luther Dixon, Al Smith) – 4 min 15 s
Midnight to Six Man (Phil May, Dick Taylor ?) – 3 min 18 s
I'm a King Bee (James Moore) – 5 min 45 s
Honey I Need (Dick Taylor, John Warburton, Peter Smith) – 2 min 55 s
Shakin' All Over (Johnny Kidd) – 3 min 55 s
Rosalyn (Jimmy Duncan, Bill Farley) – 2 min 17 s
Face 2
Road Runner (Ellas McDaniel) – 2 min 56 s
Mama (Keep Your Big Mouth Shut) (Ellas McDaniel) – 2 min 11 s
Rainin' in My Heart (Jerry West, James Moore) – 4 min 5 s
Reelin' and Rockin' (Chuck Berry) – 2 min 50 s
Don't Bring Me Down (Johnny Dee) – 2 min 35 s
Mona (I Need You Baby) (Ellas McDaniel) – 5 min 58 s
Participants
John Clark : batterie
John Elster : harmonica
Kevin Flanagan : saxophone ténor
Phil May : chant, production
Joe Shaw : guitare
Dick Taylor : guitare
Dave Wilki : claviers
Dave Wintour : basse
Tom Newman : ingénieur du son
Principales éditions
1984 : 33 tours, Allemagne de l'Ouest, Line LRLP 5364
1984 : 33 tours, Royaume-Uni, Big Beat WIK 24
1985 : 33 tours, France, WEA 24 0574-1