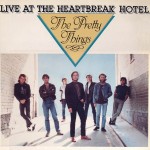 Auteur : Frederick Heath
En concert :
Éditeur : Mills Music
Johnny Kidd & the Pirates était l'un des groupes pionniers du rock and roll en Grande-Bretagne. Leur plus gros succès est venu avec ce Shakin' All Over, numéro 1 des ventes dans leur pays d'origine en août 1960 et repris par d'innombrables artistes, des Guess Who aux Who. Les Pirates n'ont jamais su rééditer cet exploit et la mort prématurée de Johnny Kidd dans un accident de voiture en 1967 est venu mettre un terme à leur carrière.
Les Pretty Things ont parfois joué cette chanson sur scène, mais il ne l'ont jamais retenue pour figurer sur un de leurs albums studio.
Paroles
When you move in right up close to me
That's when I get the shakes all over me
Quivers down the backbone
I got the shakes down the knee bones
Yeah, the tremors in my thigh bone
Shakin' all over
Just the way that you say goodnight to me
Brings that feelin' on inside of me
Quivers down the backbone
I got the shivers down the thigh bone
Yeah the tremors in my back bone
Shakin' all over
Quivers down my backbone
Yeah the shakes in my knee bone
I got the tremors in my thigh bone
Shakin' all over
Well, you make me shake it and I like it, baby
You make me shake it and I like it, baby
Well, shake, shake, shake