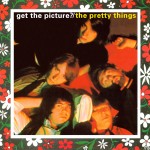 Auteurs : Tim Hardin
Album : Get the Picture? (1965)
Durée : 2 min 23 s
Éditeur : ?
Compilations :
Cette ballade folk de Tim Hardin, notamment enregistrée par Donovan, est bizarrement créditée à Dick Taylor sur le 33 tours original de Get the Picture? D'accord, son travail à la guitare sur cette piste est très bon, mais de là à faire de lui son auteur… La réédition CD ne fait pas mieux en attribuant la chanson à Bert Russell !
Paroles
Before you go, back to London town
Be sure that your woman, she won't turn you down
Green rocky road, promenade and green
Tell me who you love, tell me who you love
If when you get there, it's another man
Must find your way back if you can
Green rocky road, promenade and green
Tell me who you love, tell me who you love
If you wait around, maybe you will find
When spring turns to summer, she may change her mind
Green rocky road, promenade and green
Tell me who you love, tell me who you love
---
← I Want Your Love — London Town — Cry to Me →