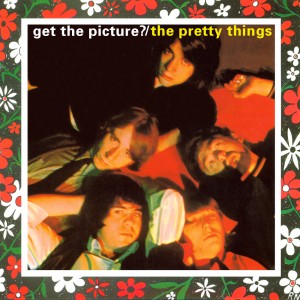 Get the Picture? est le deuxième album studio des Pretty Things, sorti en décembre 1965 chez Fontana Records.
Deux albums en un an ! C'est courant à l'époque, certes. Mais celui-ci marque un franc progrès par rapport au précédent : un peu moins de reprises blues, un peu plus de chansons originales, un son un peu plus varié, de la hargne punkoïde de la chanson-titre au folk de London Town au proto-psychédélisme de Can't Stand the Pain. Reste que les meilleures chansons du groupe sont à l'époque sur les 45 tours, qu'il s'agisse de la subtilement titrée £.s.d. (puisqu'ils vous disent que ça parle de l'ancien système monétaire britannique en livres, shillings et pence…) ou de la déferlante de fuzz de Come See Me.
Titres
Face 1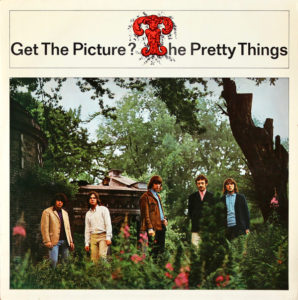 You Don't Believe Me (Bobby Graham, Phil May, Willie Morrell, Jimmy Page) – 2 min 21 s
Buzz the Jerk (Phil May, Dick Taylor) – 1 min 53 s
Get the Picture? (Phil May, Dick Taylor) – 1 min 54 s
Can't Stand the Pain (Phil May, Dick Taylor, Bobby Graham) – 2 min 39 s
Rainin' in My Heart (Jerry West, James Moore) – 2 min 29 s
We'll Play House (Aldo, Fred Gandy, Phil May, Dick Taylor) – 2 min 31 s
Face 2
Bonus
La plus récente réédition CD de Get the Picture inclut six titres bonus, ainsi que le film promotionnel The Pretty Things enregistré en 1966.
Participants
Skip Alan : batterie
Phil May : chant, harmonica
Brian Pendleton : guitare rythmique
Viv Prince : batterie
John Stax : basse, harmonica
Dick Taylor : guitare lead
Bobby Graham : production, batterie, piano sur Can't Stand the Pain
Jimmy Page : tambourin sur You Don't Believe Me
Twink : batterie sur You Don't Believe Me
Glyn Johns : production sur Midnight to Six Man, Come See Me, £.S.D. et Me Needing You
Nicky Hopkins : piano sur Midnight to Six Man
Margo Croccito : orgue Hammond sur Midnight to Six Man
Principales éditions
1965 : 33 tours, Royaume-Uni, Fontana TL 5280
1965 : 33 tours, Allemagne, Fontana 687 359 TL
1990 : CD, Royaume-Uni, Fontana 846 459-2
1998 : CD, Royaume-Uni, Snapper SMMCD 549
2000 : 33 tours, États-Unis, Norton ED-283
2000 : CD, Royaume-Uni, Snapper SDPCD 114 (édition limitée)
2002 : CD, Allemagne, Repertoire REP 4928
Critiques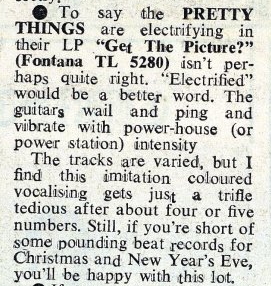 To say the PRETTY THINGS are electrifying in their LP "Get The Picture?" (Fontana TL 5280) isn't perhaps quite right. "Electrified" would be a better word. The guitars wail and ping and vibrate with power-house (or power station) intensity.

The tracks are varied, but I find this imitation coloured vocalising gets just a trifle tedious after four or five numbers. Still, if you're short of some pounding beat records for Christmas and New Year's Eve, you'll be happy with this lot.

Disc Weekly, 18 décembre 1965
---
← Album précédent : The Pretty Things
Album suivant : Emotions →