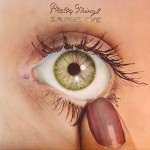 Auteurs : Phil May
Album : Savage Eye (1975)
Singles :
Durée : 4 min 27 s
Éditeur : Sole Survivors Music
Compilations :
Ce titre aux paroles très allusives et fracturées décrit les épaves des Sixties, ceux dont le cerveau n'a pas survécu aux psychotropes comme le LSD : « You're lysergically removed from what you were ». On pensera à des gens comme Syd Barrett, le diamant fou des Pink Floyd.
Paroles

et traduction

Like a breathless summer evening,
When the silence simply roars,
You're so attached to what you're holding now,
But can you prove it yours?

You're the saviour of the drowning moon,
The bringer of the luck,
You're a concrete case for open space,
Who swears the cities suck.

You're the keeper of stars
Shining their cars
Applauding with the one hand you've got free.
You're amazingly graced,
Doesn't show on your face.
You're lysergically removed from what you were.

Asleep with the past
You're engaged to a dream,
You're a sepia creature
On the yesterday screen.

Like a forest in the winter,
When all life has gone to ground.
Holding wordless conversations,
You're slaughtered by the sound.

Like a river of forgotten dreams,
You lie strangled in the reeds.
Your sack is full of wild oats,
Why don't you sow come seeds?

The seconds drip, minutes click,
Set the trap, turn the lock,
Turn your back.

Moon dissolves, sun explodes
In the sky, it's getting dark
Very dark, wonder why.

Knelt before, piece of cheese
On your knees, you always were
Hard to please, hard to please.

Hidden in, liquid clear
Swims the fear, tomorrows child
Doesn't see, doesn't hear.

Comme un soir d'été à bout de souffle,
Quand le silence se contente de rugir,
Tu es si attaché à ce que tu as dans les mains,
Mais peux-tu prouver que ça t'appartient ?

Tu es le sauveur de la lune qui se noie,
Celui qui apporte la chance
Tu es un cas concret en faveur des grands espaces,
Qui jure que les villes, ça craint.

Tu es le gardien des étoiles
Tu lustres leurs voitures
Tu les applaudis de ta main libre.
Tu es extrêmement doué,
Ça ne se voit pas sur ton visage.
Un écart lysergique te sépare de ce que tu étais.

Couché avec le passé
Tu es fiancé à un rêve,
Tu es une créature en sépia
Sur les écrans d'hier.

Comme une forêt en plein hiver,
Quand la vie s'est réfugiée sous terre.
Tu as des conversations silencieuses,
Le bruit te massacre.

Comme une rivière de rêves oubliés,
Tu reposes au milieu des roseaux, étranglé.
Ton sac est plein d'avoine sauvage,
Pourquoi ne plantes-tu pas quelques graines ?

Les secondes s'écoulent, les minutes cliquent,
Pose le piège, tourne la clef,
Tourne le dos.

La lune se dissout, le soleil explose
Dans le ciel, ça s'assombrit,
Très sombre, mais pourquoi donc

Agenouillé devant un bout de fromage,
Sur les genoux, tu as toujours été
Difficile à satisfaire, à satisfaire

Caché dans un liquide clair
Nage la peur, l'enfant de demain
Ne voit rien, n'entend rien.
---
← Sad Eye — Remember That Boy — It Isn't Rock 'n' Roll →