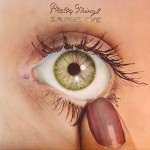 Bien qu'elle soit créditée à Peter Tolson, cette douce ballade est en réalité l'œuvre de Jack Green. Plusieurs des chansons de l'album Savage Eye sont ainsi attribuées à des membres historiques du groupe plutôt qu'à des nouveaux venus, une situation qui ne fait rien pour apaiser les tensions.
Paroles
Well, if you ever baby,
Feel like changing your mind,
Don't think twice, just take it easy,
Anything you do will please me.
Just as long as you see me.
And if you ever, baby,
Feel like starting again,
All you gotta do is phone me,
There is nothing you need show me.
Just as long as you know me.
Well, I knocked on every door,
Looked on every sea and shore.
Just to find that you had left me.
You were a special one,
Like the setting of the sun,
Now it's too late to help me.