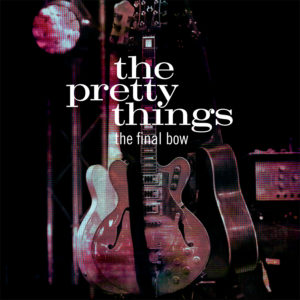 The Final Bow est un album live des Pretty Things sorti le 1er novembre 2019.
Il retrace l'ultime concert électrique du groupe, le 13 décembre 2018 au Indigo at the O2 de Londres. Des invités prestigieux ont répondu présent (David Gilmour à la guitare, Van Morrison au chant et à l'harmonica), de même que les grands anciens Skip Alan, Jon Povey et Wally Waller.
Après 55 ans, dire au revoir aux Pretty Things comme groupe électrique, c'était un séisme émotionnel et une sacrée perte, pour tous les membres et pour notre manager. Y être contraint pour des raisons de santé, alors que le groupe était au sommet de sa forme, créait de l'excellente musique et donnait des concerts si réussis, n'a fait qu'aggraver les choses.

Ceci dit, ce coffret et ce qu'il représente est un hommage unique au groupe que j'aime, à la vie qu'on a vécue et la manière dont on l'a vécue. Je sais que le groupe et moi avons eu de la chance de tenir une performance de 2 heures et 45 minutes, dans la meilleure forme possible, et nous estimons tous avoir fourni un effort digne des meilleurs Pretty Things. L'avoir enregistré visuellement et auditivement, être accompagnés de nos chers vieux amis David Gilmour et Van Morrison et avoir rempli le o2 de nos amis, jeunes et vieux, anciens et nouveaux, ceux qu'on a aidés et ceux qui nous ont aidés, c'était la cerise sur le gâteau.

C'est un bel instantané d'une belle nuit, un concert fabuleux, un moment déchirant, une vie de rock and roll. Nous, on l'adore, et on espère que vous l'adorerez aussi.

Phil May
L'album est édité sous deux formats. La version de base est un double 33 tours, mais elle ne comprend pas l'intégralité du concert. Les fans qui la voudront devront se tourner vers la version de luxe, où le concert entier figure sur deux CD et deux DVD. Cette version de luxe inclut également un livret abondamment illustré et un vinyle reprenant cinq chansons sélectionnées par Phil May et Dick Taylor (Rosalyn, Get the Picture?, S. F. Sorrow Is Born, The Same Sun et Loneliest Person).
Titres
Les titres marqués d'une dague † sont absents de la version 33 tours.
CD 1
Intro – 22 s
Honey, I Need (Dick Taylor, John Warburton, Peter Smith) – 2 min 33 s
Don't Bring Me Down (Johnnie Dee) – 2 min 51 s
† Buzz the Jerk (Phil May, Dick Taylor) – 2 min 17 s
† Mama, Keep Your Big Mouth Shut (Ellas McDaniel) – 3 min 7 s
Get the Picture? (Phil May, Dick Taylor) – 3 min
The Same Sun (Dick Taylor, Mark St. John) – 3 min 21 s
Alexander / Defecting Grey (Phil May, Jon Povey, Dick Taylor, Wally Waller) – 8 min 43 s
† Big Boss Man (Luther Dixon, Al Smith) – 4 min 9 s
Midnight to Six Man (Phil May, Ian Stirling, Dick Taylor) – 4 min 5 s
Mr. Evasion (Phil May, Dick Taylor, Wally Waller) – 3 min 29 s
S. F. Sorrow Set Intro – 17 s
Scene One (Phil May, Wally Waller) – 1 min 18 s
S. F. Sorrow Is Born (Phil May, Dick Taylor, Wally Waller) – 3 min 17 s
She Says Good Morning (Phil May, Dick Taylor, Wally Waller, John C. Alder) – 4 min 31 s
† Baron Saturday (Phil May, Dick Taylor, Wally Waller) – 3 min 33 s
† Trust (Phil May, Dick Taylor, Wally Waller) – 2 min 41 s
I See You (Phil May, Dick Taylor, Wally Waller) – 6 min 7 s
Cries from the Midnight Circus (Phil May, Wally Waller) – 6 min 51 s
CD 2
End Set Intro – 54 s
Can't Be Satisfied (McKinley Morganfield) – 4 min 27 s
† Come in My Kitchen (Robert Johnson) – 7 min 10 s
Baby, Please Don't Go (traditionnel) – 3 min 9 s
† I Can Tell (Ellas McDaniel, Samuel Smith) – 3 min 55 s
You Can't Judge a Book by Its Cover (Ellas McDaniel) – 2 min 58 s
Come See Me (Sidney Barnes, J. J. Jackson, Pierre Tubbs) – 3 min 1 s
† Mona (Ellas McDaniel) – 13 min 25 s
£.s.d. / Old Man Going (Phil May, Jon Povey, Dick Taylor, Wally Waller, John C. Alder) – 13 min 24 s
Encore Intro – 22 s
Rosalyn (Jimmy Duncan, Bill Farley) – 3 min 4 s
Loneliest Person (Phil May, Dick Taylor, Wally Waller, John C. Alder) – 2 min
Phil's Final Words – 37 s
Participants
Principales éditions
2019 : 2 × 33 tours, Royaume-Uni, Snapper SMALP1139
2019 : 2 × CD + 2 × DVD + 33 tours, Royaume-Uni, Snapper SMABX1139