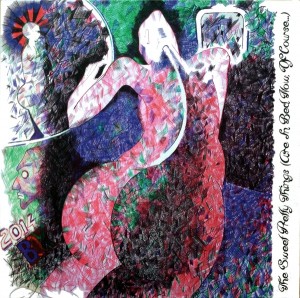 The Sweet Pretty Things (Are in Bed Now, of Course…) est le douzième album studio des Pretty Things, sorti le 10 juillet 2015 chez Repertoire Records.
Son titre est le premier vers des paroles de Tombstone Blues, une chanson de Bob Dylan parue en 1965 sur Highway 61 Revisited. Dylan aurait été un grand fan des Pretty Things à l'époque… c'est du moins ce que racontent ces mêmes Pretty Things.
Les dix chansons qui constituent cet album ont été enregistrées à l'ancienne, en analogue, et dans les conditions du direct (hormis une poignée d'overdubs de claviers et de percussions) aux 811 Studios de Horsham, dans le Sussex.
Titres
The Same Sun (Dick Taylor, Mark St. John) – 3 min 23 s
And I Do (George Woosey, Mark St. John, Phil May) – 3 min 32 s
Renaissance Fair (David Crosby, Roger McGuinn) – 1 min 52 s
You Took Me by Surprise (Sky Saxon) – 2 min 33 s
Turn My Head (Dick Taylor, Phil May, Wally Waller) – 3 min 40 s
Dark Days (Frank Holland, Phil May) – 4 min 39 s
Greenwood Tree (Dick Taylor, Frank Holland, George Woosey, Jack Greenwood) – 4 min 16 s
Hell, Here and Nowhere (George Woosey) – 4 min 55 s
In the Soukh (Dick Taylor) – 2 min 30 s
Dirty Song (Phil May, George Woosey) – 5 min 12 s
Note : Turn My Head et Dark Days sont interverties sur l'édition 33 tours.
Participants
Phil May : chant, maracas, dessin de la pochette
Dick Taylor : guitare solo, chant
Frank Holland : guitare solo, mellotron, chant
George Woosey : basse, guitare rythmique, chant
Jack Greenwood : batterie, percussions, chant
Mark St. John : percussions, chant, producteur, ingénieur du son, mixage, photographie
Nick Brockway : orgue Hammond
Gwyn Matthias : mastering
Pete Hayward : design
Principales éditions
2015 : CD, Allemagne, Repertoire REPUK 1265
2015 : 33 tours, Allemagne, Repertoire V 166
---
← Album précédent : Balboa Island
Album suivant : Bare as Bone, Bright as Blood →