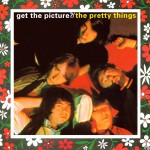 Auteurs : Bobby Graham, Phil May, Willie Morrell, Jimmy Page
Album : Get the Picture? (1965)
Durée : 2 min 21 s
Éditeur : Jimbo Music
Compilations :
Reprises :

The In-Betweens sur l'EP Feel So Fine (1965)
The Lears sur l'album-hommage Not So Pretty (1995)
Cette chanson est enregistrée le 14 septembre 1965 par une combinaison de musiciens inhabituelle. En effet, John Stax s'est marié la veille et profite de sa lune de miel. Pour le remplacer, les Pretty Things font appel à Fred Gandy, le bassiste des Fairies. Son camarade Twink l'accompagne à la séance d'enregistrement par désœuvrement. Bien lui en a pris, car on aura également besoin de lui pour tenir la batterie, l'inénarrable Viv Prince s'étant suffisamment fait remarquer pour passer la nuit en cellule. Enfin, plus personne ne sait si c'est Dick Taylor ou Jimmy Page qui tient la guitare sur ce titre.
Paroles
You don't believe me when I say I love you, babe
You don't believe the things I say to you, babe
To make you understand, that's all I ask you to do
Don't keep me from your heart
You don't believe me when I say I want you, babe
You don't believe me when I kiss you, babe
You can't help yourself, I try so hard to make you
[???]
I will never leave you
I'll never try to [???] you
Oh no
You don't believe me when I say I love you, babe
You don't believe the things I say to you, babe
To make you understand, that's all I try to do
Don't keep me from your heart
---
You Don't Believe Me — Buzz the Jerk →