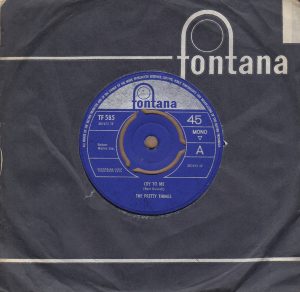 Cry to Me / Get a Buzz est le quatrième 45 tours des Pretty Things. Il est sorti le 25 juin 1965 chez Fontana Records.
Les Pretties affirment a posteriori ne pas avoir su que les Rolling Stones avaient enregistré au même moment une reprise de cette chanson de Solomon Burke pour leur album Out of Our Heads. Qu'il s'agisse effectivement d'une coïncidence ou pas, la parution presque simultanée des deux versions n'a pas dû aider à mettre un terme aux comparaisons entre les deux groupes.
Titres
Cry to Me (Bert Russell) – 2 min 51 s
Get a Buzz (Phil May, Brian Pendleton, Viv Prince, John Stax, Dick Taylor) – 4 min
Participants
Principales éditions
1965 : 45 tours, Royaume-Uni, Fontana TF 585
1965 : 45 tours, Allemagne de l'Ouest, Star-Club 148 534 STF
1965 : 45 tours, Australie, Philips BF-202
1965 : 45 tours, Danemark, Fontana TF 267 471
1965 : 45 tours, Nouvelle-Zélande, Fontana TF 267 471
1965 : 45 tours, Pays-Bas, Fontana TF 267 471
Critiques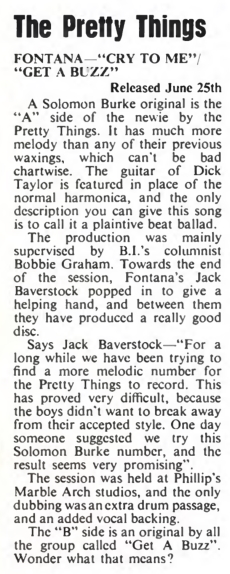 A Solomon Burke original is the "A" side of the newie by the Pretty Things. It has much more melody than any of their previous waxings, which can't be bad chartwise. The guitar of Dick Taylor is featured in place of the normal harmonica, and the only description you can give this song is to call it a plaintive beat ballad.

The production was mainly supervised by B.I.'s columnist Bobbie Graham. Towards the end of the session, Fontana's Jack Baverstock popped in to give a helping hand, and between them they have produced a really good disc.

Says Jack Baverstock—"For a long while we have been trying to find a more melodic number for the Pretty Things to record. This has proved very difficult, because the boys didn't want to break away from their accepted style. One day someone suggested we try this Solomon Burke number, and the result seems very promising".

The session was held at Phillip's Marble Arch studios, and the only dubbing was an extra drum passage, and an added vocal backing.

The "B" side is an original by all the group called "Get A Buzz". Wonder what that means?

Beat Instrumental, juillet 1965

"Cry To Me" opens with Phil May's fascinating hoarse voice and a faint Latin tinge, then swells into a pounding mid-tempo shaker, as the title is repeated over and over, with the rest of the Pretty Things joining in.

It didn't hit me strongly at first, but after three spins I found I was singing along with it. The sound is enveloping, the material insistent and repetitive. Should climb fairly high.

Compelling drive and novelty lyric for "Get A Buzz," written by the boys. Phil solos throughout, and there's a harmonica interlude. On Fontana.

Derek Johnson, New Musical Express, 2 juillet 1965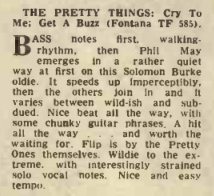 Bass notes first, walking-rhythm, then Phil May emerges in a rather quiet way at first on this Solomon Burke oldie. It speeds up imperceptibly, then the others join in and it varies between wild-ish and subdued. Nice beat all the way, with some chunky guitar phrases. A hit all the way… and worth the waiting for. Flip is by the Pretty Ones themselves. Wildie to the extreme, with interestingly strained solo vocal notes. Nice and easy tempo.

Norman Jopling et Peter Jones, Record Mirror, 3 juillet 1965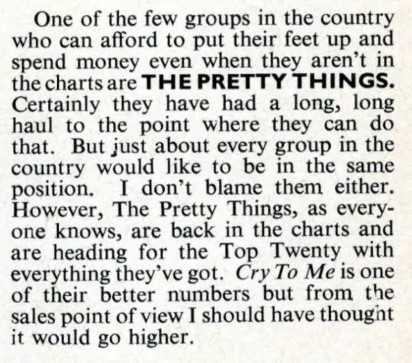 One of the few groups in the country who can afford to put their feet up and spend money even when they aren't in the charts are THE PRETTY THINGS. Certainly they have had a long, long haul to the point where they can do that. But just about every group in the country would like to be in the same position. I don't blame them either. However, The Pretty Things, as everyone knows, are back in the charts and are heading for the Top Twenty with everything they've got. Cry To Me is one of their better numbers but from the sales point of view I should have thought it would go higher.

Don Crisp, Pop Weekly, 7 août 1965
Classements
Au Royaume-Uni, Cry to Me est resté sept semaines dans le Top 50 des meilleures ventes établi par le magazine Record Retailer, avec un pic à la 28e place. Il fait un peu mieux dans le classement concurrent du New Musical Express, où il entre de justesse dans le Top 20.
Date
Position
(Record Retailer)
Position
(NME)
Position
(Melody Maker)
Position
(Disc)
10 juillet 1965
—
25
45
—
17 juillet 1965
34
20
42
—
24 juillet 1965
28
20
33
26
31 juillet 1965
31
26
33
29
7 août 1965
34
27
34
—
14 août 1965
32
—
39
—
21 août 1965
37
—
44
—
28 août 1965
41
—
—
—
4 septembre 1965
—
—
—
—
source
source
source
source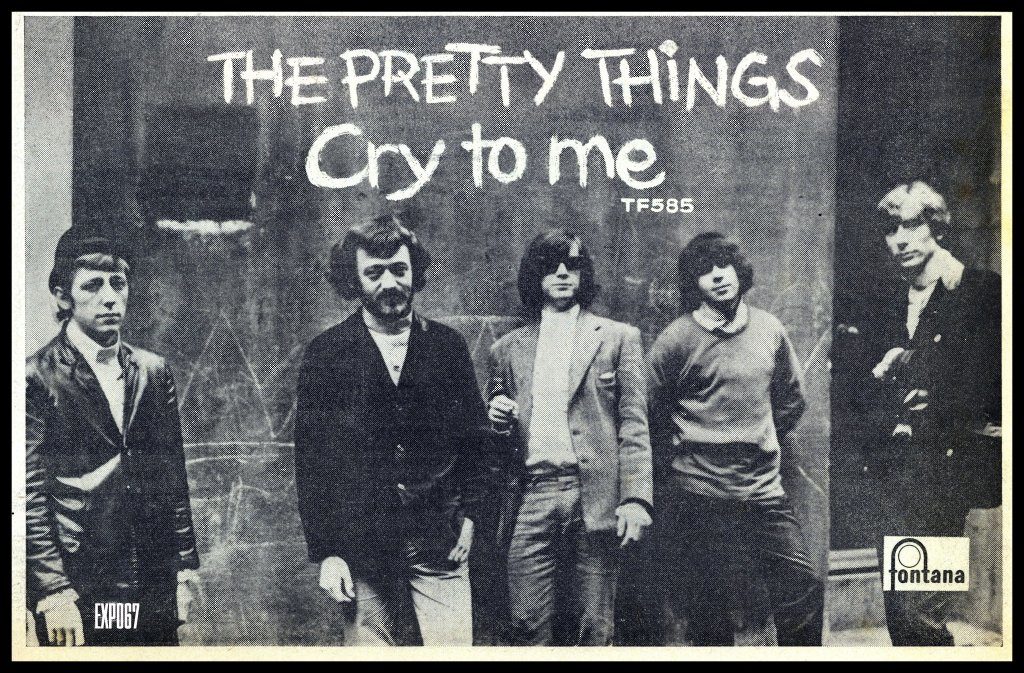 ---
← Single précédent : Honey, I Need / I Can Never Say
Single suivant : Midnight to Six Man / Can't Stand the Pain →