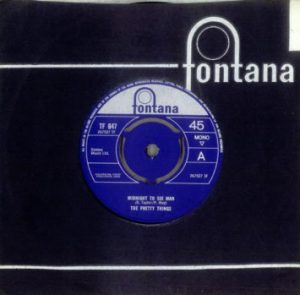 Midnight to Six Man / Can't Stand the Pain est le cinquième 45 tours des Pretty Things, sorti en décembre 1965.
C'est le premier enregistrement paru du groupe avec Skip Alan, qui a remplacé Viv Prince à la batterie un mois auparavant.
Pour la face A, les Pretties sont accompagnés de deux claviéristes. Le premier est le légendaire musicien de studio Nicky Hopkins, plus connu pour avoir joué avec les Rolling Stones et les Kinks (Ray Davies lui a même dédié une chanson, Session Man). L'autre est Margo Croccito, l'organiste de Goldie and the Gingerbreads, l'un des tout premiers groupes de filles de l'histoire du rock.
Titres
Midnight to Six Man (Phil May, Dick Taylor) – 2 min 20 s
Can't Stand the Pain (The Pretty Things) – 2 min 41 s
Participants
Principales éditions
1965 : 45 tours, Royaume-Uni, Fontana TF 647
1965 : 45 tours, Australie, Philips BF-245
1965 : 45 tours, Danemark, Fontana TF 267 527
1965 : 45 tours, Pays-Bas, Fontana TF 267 527
1966 : 45 tours, États-Unis, Fontana F-1540
Critiques
La presse musicale britannique accueille avec un grand enthousiasme ce 45 tours. Même Penny Valentine de Disc, rarement convaincue par les disques des Pretty Things, n'a que de bonnes choses à dire sur Midnight to Six Man dont elle apprécie tout particulièrement les paroles. Pour Derek Johnson, l'atmosphère pleine d'énergie compense largement la mélodie un peu faible et à ses yeux, c'est le seul tube en puissance sorti en cette toute fin d'année 1965. Record Mirror promet également au disque un bel avenir au hit-parade britannique, tout comme Cash Box de l'autre côté de l'Atlantique, des prédictions qui ne se réaliseront hélas pas.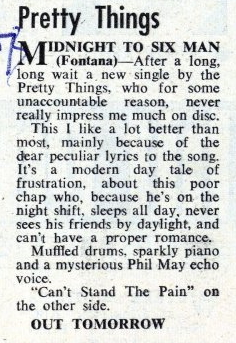 After a long, long wait a new single by the Pretty Things, who for some unaccountable reason, never really impress me much on disc.

This I like a lot better than most, mainly because of the dear peculiar lyrics to the song. It's a modern day tale of frustration, about this poor chap who, because he's on the night shift, sleeps all day, never sees his friends by daylight, and can't have a proper romance.

Muffled drums, sparkly piano and a mysterious Phil May echo voice.

"Can't Stand the Pain" on the other side.

Penny Valentine, Disc Weekly, 18 décembre 1965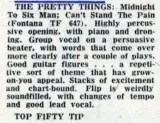 Highly percussive opening, with piano and droning. Group vocal on a persuasive beater, with words that come over more clearly after a couple of plays. Good guitar figures . . . a repetitive sort of theme that has grow-on-you appeal. Stacks of excitement and chart-bound. Flip is weirdly soundfilled, with changes of tempo and good lead vocal.

Record Mirror, 18 décembre 1965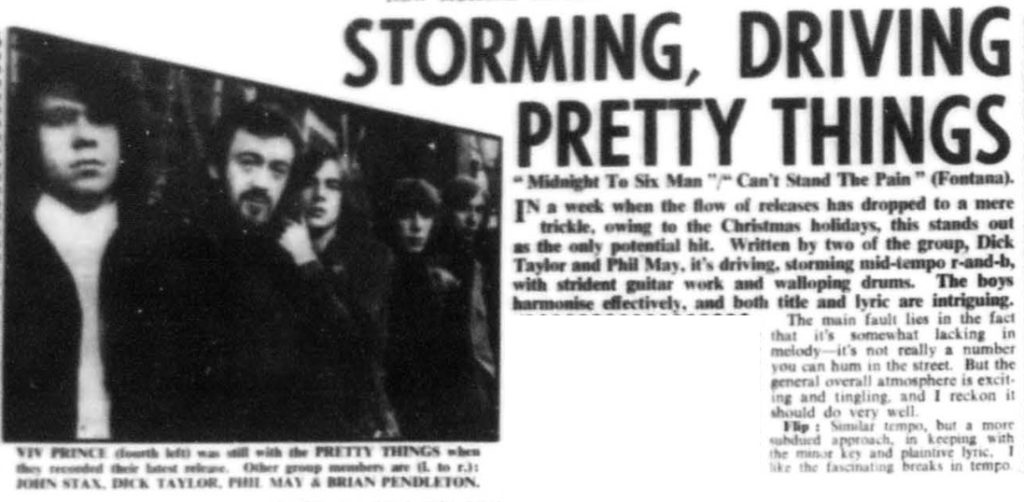 In a week when the flow of releases has dropped to a mere trickle, owing to the Christmas holidays, this stands out as the only potential hit. Written by two of the group, Dick Taylor and Phil May, it's driving, storming mid-tempo r-and-b, with strident guitar work and walloping drums. The boys harmonise effectively, and both title and lyric are intriguing.

The main fault lies in the fact that it's somewhat lacking in melody—it's not really a number you can hum on the street. But the general overall atmosphere is exciting and tingling, and I reckon it should do very well.

Flip: Similar tempo, but a more subdued approach, in keeping with the minor key and plaintive lyric. I like the fascinating breaks in tempo.

Derek Johnson, NME, 24 décembre 1965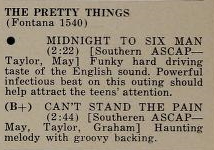 MIDNIGHT TO SIX MAN (2:22) [Southern ASCAP—Taylor, May] Funky hard driving taste of the English sound. Powerful infectious beat on this outing should help attract the teens' attention.

(B+) CAN'T STAND THE PAIN (2:44) [Southeren ASCAP—May, Taylor, Graham] Haunting melody with groovy backing.

Cash Box, 19 février 1966
Classements
Malgré l'enthousiasme des critiques, le public boude Midnight to Six Man. Il ne figure qu'une toute petite semaine dans le Top 50 des meilleures ventes établi par le magazine Record Retailer et s'en sort à peine mieux dans le classement rival du New Musical Express, avec trois semaines dans les charts. Il ne réussit même pas à entrer dans les classements de Disc et Melody Maker.
Date
Position
(Record Retailer)
Position
(NME)
8 janvier 1966
—
27
15 janvier 1966
—
27
22 janvier 1966
—
—
29 janvier 1966
46
26
source
source
---
← Single précédent : Cry to Me / Get a Buzz
Single suivant : Come See Me / £. s. d. →