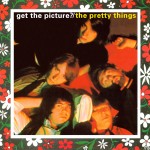 Auteurs : Brian Smith, Terry Fox
Album : Get the Picture? (1965)
Durée : 2 min 25 s
Compilations :
Cette chanson provient du répertoire des Cops 'n Robbers, un groupe de rhythm and blues formé en 1964 à Watford qui doit lui aussi son nom à une chanson de Bo Diddley. C'est tout de même assez surprenant que les Pretty Things soient allés piocher une chanson à reprendre dans le répertoire d'un de leurs contemporains, voire concurrents directs… En tout cas, ça n'aura pas porté chance aux Cops 'n Robbers : après trois 45 tours chez Pye et un EP français chez Vogue, ils se sont séparés en 1966.
Un groupe allemand, The Boots, a aussi repris cette chanson en 1965.
Paroles
[…]
---
← We'll Play House — You'll Never Do It Baby — I Had a Dream →