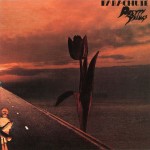 Paroles et traduction
In the concrete valleys the electric storm.
We members of the midnight circus,
Our bodies so brightly adorn
In your long sedans and your Oldsmobiles,
Through that slit in your face, you ask me,
How it feels.
Can you hear me, can you hear me,
I'm a-telling you again.
Daughters of Satan all stand in line,
With faces greased and a mouth full of shine.
With iron hand you bruise the flesh,
Then through a closing door you ask,
Pray why the distress.
Hear me, can you hear me, can you.
Midnight sailors can stay,
We won't send you away,
See me here on my knees.
You lie in the alley, with blood on your clothes.
As fingers round your throat they close.
Your cries of murder, splash on the walls
As you die, you think about the injustice of it all.
Can you hear me…
Hear me…
See Satan's daughters' red light,
They have such good appetites,
Another clown packs his drag…
Dans les vallées de béton, la tempête électrique
Nous autres, membres du cirque de minuit,
Nos corps parés de tant de lumière
Dans vos longues berlines et vos Oldsmobiles,
Par cette fente dans votre visage, vous me demandez
Quel effet ça fait.
Est-ce que vous m'entendez, est-ce que vous m'entendez ?
Je vais vous le dire à nouveau.
Les filles de Satan sont toutes alignées
Le visage graisseux, la bouche pleine d'éclat
D'une main de fer, tu blesses la chair
Avant de demander, à travers une porte qui se ferme,
Enfin, pourquoi tant de chagrin ?
M'entendez-vous, est-ce que vous m'entendez, m'entendez ?
Marins de minuit, vous pouvez rester,
On ne va pas vous renvoyer,
Regardez-moi m'agenouiller.
Tu gis dans l'allée, les vêtements tachés de sang
Des doigts se referment sur ta gorge
Tu cries au meurtre, ça éclabousse les murs
En mourant, tu penses à quel point c'est injuste tout ça
Est-ce que tu m'entends ?
Tu m'entends ?
Regarde la lumière rouge des filles de Satan
Elles ont un tel appétit
Un autre clown range son costume…
---
← Miss Fay Regrets — Cries from the Midnight Circus — Grass →