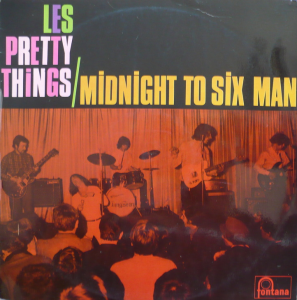 Midnight to Six Man est un album des Pretty Things sorti en 1966, uniquement en France.
Il reprend dix des douze chansons de l'album Get the Picture?, sorti en décembre 1965 au Royaume-Uni. We'll Play House et Gonna Find Me a Substitute sont écartées pour laisser la place à deux titres parus en 45 tours de l'autre côté de la Manche, Midnight to Six Man et I Can Never Say.
La pochette est quasiment identique à celle de l'EP Come See Me / Buzz the Jerk / Midnight to Six Man / £.s.d. sorti en France l'année précédente. Il s'agit d'une photo du groupe sur la scène de la Locomotive, à Paris, prise par Bernard Leloup.

Titres
Face 1
Face 2
I Can Never Say (Phil May, Brian Pendleton, Viv Prince, John Stax, Dick Taylor) – 2 min 34 s
You'll Never Do It Baby (Brian Smith, Terry Fox) – 2 min 25 s
I Had a Dream (Jimmy Witherspoon) – 2 min 57 s
I Want Your Love (Johnnie Dee, Johnny Tarr) – 2 min 14 s
Cry to Me (Bert Russell) – 3 min 21 s
London Town (Tim Hardin) – 2 min 23 s
Titres bonus
Cet album a été réédité au format CD en 2013 avec douze titres bonus :
Don't Bring Me Down (Johnnie Dee) – 2 min 9 s
Big Boss Man (Luther Dixon, Al Smith) – 2 min 39 s
Rosalyn (Jimmy Duncan, Bill Farley) – 2 min 21 s
We'll Be Together (Phil May, John Stax, Dick Taylor) – 2 min 9 s
Honey, I Need (Dick Taylor, « Button », « Smithling ») – 2 min 50 s
Sittin' All Alone (Phil May, Ian Stirling, Dick Taylor) – 2 min 45 s
Come See Me (J.J. Jackson, Pierre Tubbs, Sidney Barnes) – 2 min 38 s
£.s.d. (Phil May, Dick Taylor) – 2 min 23 s
Progress (Bob Halley, Carl Spencer) – 2 min 38 s
We'll Play House (Phil May, Dick Taylor, Aldo, Fred Gandy) – 2 min 32 s
Gonna Find Me a Substitute (Ike Turner) – 2 min 56 s
Get Yourself Home (Phil May, Brian Pendleton, Viv Prince, John Stax, Dick Taylor) – 2 min 15 s
Éditions
1966 : 33 tours, France, Fontana 687 368 TL
2013 : CD, France, Magic 3930968