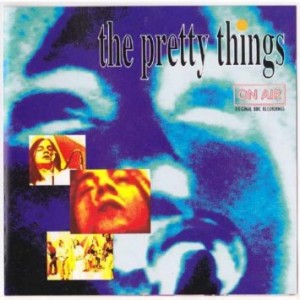 On Air: Original BBC Recordings est un album des Pretty Things sorti en 1992.
Comme son titre l'indique, cette compilation réunit des enregistrements réalisés par la BBC, une spécialité du label Band of Joy qui a publié des disques similaires pour d'autres artistes dans les années 1990. Ces enregistrements couvrent une période allant des débuts du groupe à la période Freeway Madness. L'absence de détails dans le livret n'aide pas à les situer, et quand on ajoute à ça les belles coquilles dans le tracklisting, on est en droit de penser que cet album a été un peu fini par-dessus la jambe.
On Air n'est plus édité à ce jour. De toute façon, la sortie de The BBC Sessions (2 CD, 2003) et Live at the BBC (4 CD, 2015), qui reprennent son contenu avec des tonnes de chansons supplémentaires et des livrets dignes de ce nom, l'ont rendu complètement obsolète.
Titres
Don't Bring Me Down (Johnnie Dee) – 2 min 6 s
Hey Mamma (Ellas McDaniel) – 2 min 18 s
Midnight to Six Man (Phil May, Ian Sterling, Dick Taylor) – 2 min 22 s
Buzz the Jerks (sic) (Phil May, Dick Taylor) – 1 min 40 s
LSD (Phil May, Dick Taylor) – 2 min 9 s
Big Boss Man (Luther Dixon, Al Smith) – 2 min 43 s
Defecting Grey (Phil May, Dick Taylor, Wally Waller) – 3 min 10 s
Cold Stone (Phil May, Peter Tolson, Wally Waller) – 3 min 21 s
Sickle Clowns (Phil May, Wally Waller) – 4 min 20 s
She's a Lover (Phil May, Wally Waller) – 2 min 57 s
Cries for a Midnight Circus (sic) (Phil May, Wally Waller) – 5 min 8 s
Stone Hearted Mamma (Phil May, Wally Waller) – 2 min 41 s
Summertime (Phil May, Peter Tolson, Wally Waller) – 4 min 17 s
Peter / Rip Off Train (Phil May, Peter Tolson) – 4 min 54 s
Onion Soup (Phil May, Peter Tolson) – 7 min 49 s
Participants
Principales éditions
1992 : CD, Royaume-Uni, Band of Joy BOJ CD 003