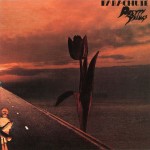 Les paroles de cette chanson s'inspirent du film culte de 1969 Easy Rider, avec des sickles (faucilles) à la place des (motor)cycles (motos).
Paroles et traduction
Down by the river
Three sickle mounted souls,
Lay wined on the green leaf,
Digging their rock 'n' roll,
Hey hey, digging their rock 'n' roll.
Slashed by the wild geese,
The silence it did tear,
Sticks swung in violence,
You America murdered there
Hey hey, young America murdered there.
As one soul lay dying,
Only two were there to care.
On through the valleys,
Sad sickle clowns they ride.
Pressed tight against morning,
Beneath the blackened sky.
Hey hey, beneath the blackened sky.
There on a hill of gold
Wild children play.
They bend to pick the flowers.
The sun dissolves the day.
Hey hey, the sun dissolves the day.
If you can't close one eye,
Then turn the other way.
Faces bark in anger,
With savage bitter words,
Twist against the friendship,
With rapid shots they're blurred.
Hey hey, with rapid shots they're blurred.
There by the highway
Two sickles melt in flames.
They burn without the knowledge
Of why their lives were claimed,
Hey hey, why their lives were claimed.
As the smoke drifts skyward
We search for those to blame…
Sur la berge du fleuve
Trois âmes montées sur des faucilles
Sont étendues sur la feuille verte
Kiffant leur rock 'n' roll
Ouais, ouais, kiffant leur rock 'n' roll.
Déchiré par les oies sauvages
Le silence est bel et bien rompu
Des bâtons violemment agités
La jeune Amérique assassinée là
Ouais, ouais, la jeune Amérique assassinée là.
Une âme se prépare à expirer
Avec seulement deux compagnons.
À travers les vallées
Chevauchent tristement les clowns à la faucille
Étroitement pressés contre le matin
Sous le ciel assombri
Ouais, ouais, sous le ciel assombri.
Là, sur une colline d'or
Jouent des enfants sauvages
Ils se penchent pour cueillir les fleurs
Le soleil dissout le jour
Ouais, ouais, le soleil dissout le jour.
Si tu ne peux pas fermer un œil,
Alors tourne-toi de l'autre côté.
Des visages aboient leur colère
Avec des mots sauvages et amers
Tordus contre l'amitié
Brouillés par des coups rapides
Ouais, ouais, brouillés par des coups rapides.
Là, près de l'autoroute
Deux faucilles fondent dans les flammes
Elles brûlent sans savoir
Pourquoi leurs vies ont été prises
Ouais, ouais, pourquoi leurs vies ont été prises.
La fumée s'élève vers le ciel
Tandis qu'on cherche les responsables…
---
← Grass — Sickle Clowns — She's a Lover →