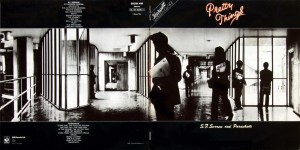 S. F. Sorrow and Parachute est une compilation des Pretty Things sortie en 1975 au Royaume-Uni chez Harvest Records.
Comme son titre l'indique, il s'agit d'un double 33 tours reprenant l'intégralité des albums S. F. Sorrow et Parachute. Il bénéficie d'une couverture inédite réalisée par le studio Hipgnosis. L'intérieur de la pochette ne présente pas les paroles des chansons, mais il inclut tout de même la nouvelle « The Story of S. F. Sorrow » qui sert d'armature à l'opéra-rock du même nom.
Aux États-Unis, Rare Earth publie une compilation similaire l'année suivante sous le titre Real Pretty.

Titres
Face 1
Face 2
Baron Saturday (Phil May, Dick Taylor, Wally Waller) – 3 min 56 s
The Journey (Phil May, Dick Taylor, Wally Waller, John C. Alder) – 2 min 45 s
I See You (Phil May, Dick Taylor, Wally Waller) – 3 min 56 s
Well of Destiny (Norman Smith, Phil May, Dick Taylor, Wally Waller, Jon Povey, John C. Alder) – 1 min 44 s
Trust (Phil May, Dick Taylor, Wally Waller) – 2 min 43 s
Old Man Going (Phil May, Dick Taylor, Wally Waller, Jon Povey, John C. Alder) – 3 min 5 s
Loneliest Person (Phil May, Dick Taylor, Wally Waller, John C. Alder) – 1 min 24 s
Face 3
Face 4
Grass (Phil May, Wally Waller) – 4 min 18 s
Sickle Clowns (Phil May, Wally Waller) – 6 min 32 s
She's a Lover (Phil May, Wally Waller) – 3 min 28 s
What's the Use (Phil May, Wally Waller) – 1 min 42 s
Parachute (Phil May, Norman Smith) – 3 min 48 s
Participants
Éditions
1975 : 2 × 33 tours, Royaume-Uni, Harvest SHDW 406