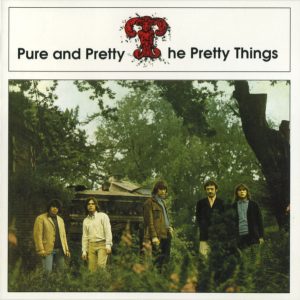 Pure and Pretty est un album pirate des Pretty Things sorti en 1993.
Il rassemble des titres de provenance diverses. La majeure partie de son contenu, soit les pistes 1 à 7, sont des chansons de l'album Emotions sans les cordes ajoutées a posteriori à la demande de Fontana Records. Les dernières rééditions CD de l'album incluent également des versions « dépouillées » de certaines chansons, mais j'ignore si elles correspondent à celles qui figurent sur ce pirate. Ce n'est pas le cas d'après ce billet de blog.
Le reste provient de différentes émissions et concerts :
Midnight to Six Man de l'émission de la BBC A Whole Scene Goin' (novembre 1965) ;
Rainin' in My Heart et Roadrunner de l'émission allemande Beat Club (décembre 1965) ;
Turning My Head et Spring de séances pour la BBC en 1968 et 1970 ;
Renaissance Fair et Talkin' About the Good Times du concert donné au Paradiso d'Amsterdam le 29 mars 1969.
La plupart de ces chansons ont également connu des parutions officielles depuis la sortie de Pure and Pretty. En particulier, les trois enregistrées pour la BBC ont paru sur The BBC Sessions et Live at the BBC.
La pochette est repiquée de la version néerlandaise de l'album Get the Picture?
Titres
One Long Glance (Phil May, Dick Taylor, Wally Waller) – 2 min 59 s
The Sun (Phil May, Wally Waller) – 3 min 1 s
There Will Never Be Another Day (Phil May, Dick Taylor, Wally Waller) – 2 min 26 s
My Time (Phil May, Dick Taylor, Wally Waller) – 3 min 7 s
Out in the Night (Ian Stirling, Dick Taylor) – 2 min 40 s
Bright Lights of the City (Phil May, Wally Waller) – 3 min 1 s
Photographer (Phil May, Ian Stirling, Dick Taylor) – 2 min 12 s
Introduction / Midnight to Six Man (Phil May, Ian Stirling, Dick Taylor) – 3 min 18 s
Rainin' in My Heart (James Moore, Jerry West) – 2 min 29 s
Roadrunner (Ellas McDaniel) – 3 min 16 s
Turning My Head (Phil May, Dick Taylor, Wally Waller) – 2 min 48 s
Spring (Phil May, Wally Waller) – 2 min 10 s
Titres bonus
Renaissance Fair (David Crosby, Roger McGuinn) – 2 min 4 s
Talkin' About the Good Times (Phil May, Dick Taylor, Wally Waller) – 11 min 2 s
Éditions
1993 : CD, Allemagne, Chapter One CO 25204