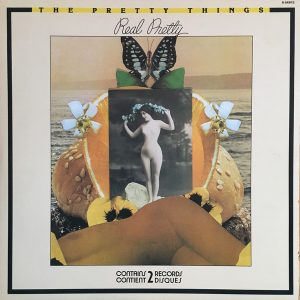 Real Pretty est une compilation des Pretty Things sortie en 1976 au États-Unis, chez Rare Earth Records.
Il s'agit de l'équivalent américain de la compilation britannique S. F. Sorrow and Parachute sortie l'année précédente, à savoir un double 33 tours reprenant les deux albums les plus connus du groupe, S. F. Sorrow et Parachute.
Real Pretty propose une pochette différente de son pendant britannique. Avec ses femmes nues sur fond de hamburger géant et de coucher de soleil, on sera en droit de la trouver d'un goût plus… discutable. À l'intérieur, on ne trouve ni les paroles des chansons, ni la nouvelle « The Story of S. F. Sorrow », mais une biographie du groupe rédigée par le journaliste Ben Edmonds.

Titres
Face 1
Face 2
Baron Saturday (Phil May, Dick Taylor, Wally Waller) – 3 min 56 s
The Journey (Phil May, Dick Taylor, Wally Waller, John C. Alder) – 2 min 45 s
I See You (Phil May, Dick Taylor, Wally Waller) – 3 min 56 s
Well of Destiny (Norman Smith, Phil May, Dick Taylor, Wally Waller, Jon Povey, John C. Alder) – 1 min 44 s
Trust (Phil May, Dick Taylor, Wally Waller) – 2 min 43 s
Old Man Going (Phil May, Dick Taylor, Wally Waller, Jon Povey, John C. Alder) – 3 min 5 s
Loneliest Person (Phil May, Dick Taylor, Wally Waller, John C. Alder) – 1 min 24 s
Face 3
Face 4
Grass (Phil May, Wally Waller) – 4 min 18 s
Sickle Clowns (Phil May, Wally Waller) – 6 min 32 s
She's a Lover (Phil May, Wally Waller) – 3 min 28 s
What's the Use (Phil May, Wally Waller) – 1 min 42 s
Parachute (Phil May, Norman Smith) – 3 min 48 s
Participants
Éditions
1976 : 2 × 33 tours, États-Unis, Rare Earth R7-549R2