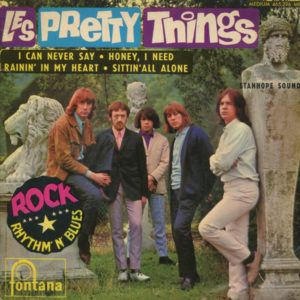 I Can Never Say est le deuxième EP français des Pretty Things. Il est sorti en 1965 sur le label Fontana.
Contrairement au précédent, Don't Bring Me Down, c'est un EP qui n'a pas vraiment d'équivalent dans la discographie britannique du groupe. Il reprend sur sa première face les deux chansons de leur troisième 45 tours, Honey I Need / I Can Never Say, tandis que sa deuxième face présente deux chansons sorties outre-Manche sur l'EP Fontana 465 280 TE.
Et comme on est en France, ce n'est pas The Pretty Things, mais Les Pretty Things. Non mais !
Comme les autres EP français du groupe, Progress a été réédité en 2017 en édition limitée dans le coffret The French EPs 1964–69.
Titres
Face 1
I Can Never Say (Phil May, Brian Pendleton, Viv Prince, John Stax, Dick Taylor) – 2 min 35 s
Honey, I Need (Dick Taylor, John Warburton, Peter Smith) – 2 min
Face 2
Rainin' in My Heart (Jerry West, James Moore) – 2 min 27 s
Sittin' All Alone (Phil May, Ian Stirling, Dick Taylor) – 2 min 45 s
Éditions
1965 : 45 tours, France, Fontana 465.296 ME