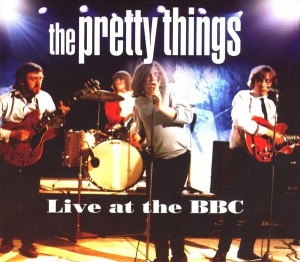 Live at the BBC est un album des Pretty Things sorti le 18 mai 2015.
Comme son titre l'indique, cette compilation réunit des enregistrements réalisés par la BBC. Elle supplante aussi bien On Air (1992) que The BBC Sessions (2002) par l'étendue de son contenu (quatre CD !).
Titres
Un obèle † indique les titres ajoutés par rapport à The BBC Sessions.
CD 1
CD 2
CD 3
In Concert, 15 février 1973 :

Religion's Dead (Phil May, Peter Tolson) – 5 min 41 s
Havana Bound (Phil May, Peter Tolson) – 5 min 19 s
Love Is Good (Phil May, Jon Povey) – 6 min 43 s
† Onion Soup (Phil May, Peter Tolson) – 8 min 15 s
Route 66 (Bobby Troup) – 3 min 3 s

Live at Golders Green Hippodrome, 1973 :

† Religion's Dead (Phil May, Peter Tolson) – 5 min 6 s
† Havana Bound (Phil May, Peter Tolson) – 4 min 15 s
† Love Is Good (Phil May, Jon Povey) – 6 min 35 s
† Onion Soup (Phil May, Peter Tolson) – 8 min 19 s
† Route 66 (Bobby Troup) – 3 min 8 s
CD 4
Participants
Principales éditions
2015 : CD, Royaume-Uni, Repertoire REPUK 1205