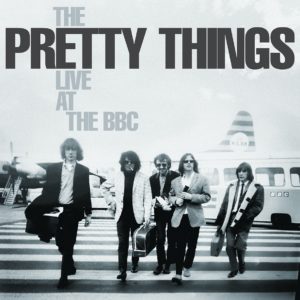 Live at the BBC est un album des Pretty Things sorti en 2021.
C'est la quatrième compilation d'enregistrements réalisés pour la BBC, après On Air (1992, 1 CD), The BBC Sessions (2002, 2 CD) et Live at the BBC (2015, 4 CD). S'agit-il de la compilation définitive de ces enregistrements ? Avec 6 CD, on est en droit de l'espérer !
Note : la liste des titres a déjà été modifiée à plusieurs reprises sur le site de Repertoire Records. Celle que je reproduis ci-dessous est correcte en date du 8 mars 2021, mais en attendant la sortie concrète de l'album, elle sera peut-être sujette à d'autres modifications.
Titres
Un obèle † indique les titres ajoutés par rapport à Live at the BBC.
CD 1
CD 2
Top Gear, 25 mai 1969 :

Spring
† Marilyn

John Peel Sunday Concert, 14 juin 1970 :

† Introduction: John Peel
† Introduction: John Peel
† Rain
† Introduction: John Peel

Sounds of the Seventies, 6 juillet 1970 :

Sounds of the Seventies, 11 août 1970 :

† (publicité)

Sounds of the Seventies, 11 septembre 1970 :
CD 3
CD 4
CD 5
In Concert, 9 août 1973 :

In Concert, décembre 1974 :

Living without You
CD 6
Éditions
2021 : 6 × CD, Allemagne, Repertoire REPUK 1373
2021 : 3 × 33 tours, Allemagne, Repertoire V 342